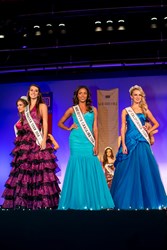 I felt like Ariel, like a princess. It's very exciting! - Taryn Revoir
Arlington, VA (PRWEB) October 04, 2013
Every teenage girl dreams of the moment they put on a gorgeous gown that stuns their friends and family. But this dream can seem far-fetched for military teens whose families are on a tight budget. On September 29th, the third annual Operation: That's My Dress! made this dream a reality for more than 450 military teens and spouses at the USO of North Carolina, Jacksonville Center.
Military daughters and mothers had the opportunity to choose a dress designed and donated by Sherri Hill, international designer for Hollywood celebrities and pageant contestants. Local designer J. Nicholson also provided $10,000 worth of dresses. Matching accessories were available from the Stella & Dot Foundation.
USO of Metropolitan New York Vice President Ray Kennedy explained why Operation: That's My Dress! is a more than just a dress giveaway—it's an opportunity for the USO to help military women feel confident and beautiful.
"This is an incredible program because it mentors young women, helps them build self-esteem and helps them make friends," said Kennedy. "It's all about empowerment for these young women. It's all about saying thank you to our military families."
The event began at Camp Lejeune with a Fashion Extravaganza that included songs, dances and a rap from the USO Show Troupe. Following the entertainment, Miss USA and Miss Teen USA state title holders modeled a selection of Sherri Hill gowns that military teens would be able to choose as their own.
Following the Fashion Extravaganza, attendees were invited to the Dress Expo at USO of North Carolina's Jacksonville center, which is the oldest USO location in the world.
Military teen Taryn Revoir, who has suffered from juvenile rheumatoid arthritis for three years, was excited to find a dress that she can wear to a Marine Corps ball this November. Revoir said her arthritis can make doing everyday things extra painful and daunting.
"Being able to get a dress in the midst of everything is amazing," said Revoir. "I felt like Ariel, like a princess. It's very exciting!"
At the Dress Expo, military families were greeted by the USO Show Troupe and Miss USA and Miss Teen USA title holders who personally helped them select the dress, jewelry and accessories of their dreams. Miss Greenville, NC USA 2014 Theresa Hallatt was there to help Revoir find the perfect dress.
"She had the brightest smile on her face when she tried on this gown," said Hallatt. "Her face lit up every time she looked at it."
More than 650 designer dresses, ranging in value from $450 to $1200, were available in different shapes and sizes for military daughters and mothers. To date, Sherri Hill, through her partnership with USO of Metropolitan New York, has donated more than $700,000 worth of dresses to military families.
In the spring of 2014, Operation: That's My Dress! will visit military families at a new location just in time for prom season.
MULTIMEDIA:
USO Photos by Renee Hansen: https://uso.box.com/s/fn33lgxmwh26hqowd91p
# # #
About the USO
The USO (United Service Organizations) lifts the spirits of America's troops and their families millions of times each year at hundreds of places worldwide. We provide a touch of home through centers at airports and military bases in the U.S. and abroad, top quality entertainment and innovative programs and services. We also provide critical support to those who need us most, including forward-deployed troops, military families, wounded warriors and their families and the families of the fallen.
The USO is a private, nonprofit organization, not a government agency. All of our programs and services are made possible by the American people, support of our corporate partners and the dedication of our volunteers and staff. In addition to individual donors and corporate sponsors, the USO is supported by President's Circle Partners: American Airlines, AT&T, Clear Channel, The Coca-Cola Company, jcpenney, Kangaroo Express, Kroger, Lowe's, Northrop Grumman Corporation, Procter & Gamble, and TriWest Healthcare Alliance and Worldwide Strategic Partners: BAE Systems, The Boeing Company, Lockheed Martin, Microsoft Corporation and TKS Telepost Kabel-Service Kaiserslautern GmbH & Co. KG. We are also supported through the United Way and Combined Federal Campaign (CFC-11381). To join us in this patriotic mission, and to learn more about the USO, please visit uso.org.