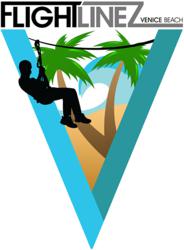 Los Angeles, CA (PRWEB) July 07, 2013
The excitement builds as the towers rise to the sky. Flightlinez has been under construction since Monday of last week.
When the timeline for construction was originally laid out; Flightlinez had anticipated opening to the public July 1st. There are always elements out of peoples control and with materials being delayed arriving to the site. Flightlinez is looking at another week of construction before they can open the zipline for everyone to enjoy.
While the office gets organized, employees begin their training Flightlinez is looking at final construction on their towers and decks to begin the middle of this week.
Once the structures have been completed over ten local artist will be on site during the following two weeks to complete their artwork live from Venice Beach, CA. Local artists were asked to submit an application and draft of their proposed work. Applications and information were available on the flightlinezvenicebeach.com.
Soaring Heights Children's Programs are still set to begin through the Oakwood Recreational Center this coming week. For more information on the classes being offered visit their website at flightlinezvenicebeach.com/soaringheights.
Soaring heights a Mentorship program focused on Dance, Aerial and Theater. Students are show casing their work for the community creating a gracious opportunity for not only the students to share their efforts but for the community to unit. A performance will be held August 10 for the community to enjoy.
Hours:
Daily 11am - sunset
Cost:
$20 per rider
$18 for California Local Discount with Valid California ID
$18 for Public Transit Users with valid day of transit pass
Other Info:
Valet for Bicycles, skateboards and roller skates/blades
Weight Restrictions: 60-250lbs
Free Shuttle services are provided from Public Lots located around Marina Del Rey on Weekends and Holidays. Flightlinez recommends using Lots 7, 8 or 9. $2.00 off for utilizing public transportation.
Office Located:
South of Windward on the Boardwalk. Ticketing office is located across from the landing deck.
1601 Ocean Front Walk
Los Angeles, CA 90291
About Flightlinez:
Flightlinez is committed to serving the community. Both locations in the Las Vegas area, Flightlinez Las Vegas on The Fremont Street Experience and Flightlinez Bootleg Canyon hold charities event to support both local and national causes in an effort to both increase awareness and give the community a way to really enjoy giving back.
Flightlinez Venice Beach was established as a temporary attraction to raise money to assist in cleaning up the Venice Beach area. A portion of the ride proceeds will go back to the city to assist in these efforts. Flightlinez has set up a children's program with Soaring Heights allowing kids to experience different forms of art, dance, performance, and natural leader skills they can use throughout life.
If you plan on sending a camera, please contact Brina Marcus as soon as possible for security clearance brina(at)flightlinez(dot)com or 702-664-4256.
For media information, please contact:
Brina Marcus
Flightlinez
702.664.4256