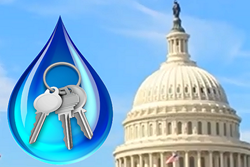 KWIC shows people how water flows through Congress.
Washington, DC (PRWEB) November 04, 2013
Water Citizen has conducted a series of interviews with people who are passionate about water and have become engaged with Congress on water issues. People are getting in touch with Congress for themselves or for organizations; to track, testify, or transform legislation; as advocates or as advisors or simply as people who want to tell their own stories about how water has been an important part of their lives.
These interviews were conducted in preparation for the launch of a new program called the Keys to Water in Congress (KWIC). The KWIC program was developed in recognition of how critical it is for Water Citizens (people who are passionate about water) to have a basic understanding of "how water flows through Congress." The KWIC program will provide tools and information for anyone who wants to track, testify on, and transform legislation on Water in Congress – regardless of their issue or position. The Water Citizen KWIC program will be kicked off with a free webinar on November 7, 2013, 7pm EST/4pm PST, that will introduce the congressional processes, people, and opportunities to participate on water legislation (http://www.waterincongress.com).
As shown in several recent polls by Gallup and World Economic Forum, and a recent review commissioned by the US EPA WaterSense program, public awareness of water is higher than it has ever been. Board members and staff of water and wastewater utilities, community activists, farmers, environmentalists, and technical experts have all needed to know the processes, people, and ways to participate on water issues in Congress. Participation does not always involve advocacy or lobbying, but can also include tracking legislation, providing technical advice, and sharing local experiences with Members of Congress on water matters.
For Mark Shively, Douglas County Water Authority, the issue was water supplies for his community of Castle Pines, Colorado – an area dependent upon non-renewable groundwater supplies. He shared the story of how he became an advocate for water on Capitol Hill. "I sat on the steps of the Lincoln Memorial envisioning the magnitude of Colorado water issues in the context of the American West, and how this all ends with action by Congress. I thought for a second if I wanted to spend that much time, and thought, oh, what the hell. I came on my own in May of 2005, and I didn't even wear a jacket. I just wore a shirt and I did wear a tie, and I asked, how does this work?"
For Nancy Freeman, Groundwater Awareness League, the issue was also groundwater. "I put together a report on a mine in Arizona and the effects on groundwater from mining. I sent that report to a Member of Congress two days before the hearing. I was invited to testify at the field hearing. [The Congressman] was right there. I said, 'I'm Nancy Freeman.' He said, 'I know who you are – I wouldn't have been able to do half of what I'm doing today if it weren't for you.' There are some of them who care."
Mike Bowman's involvement with the U.S. Congress began with his work to ensure that Farm Bill programs support farmers who were voluntarily adopting innovative approaches to the management their water and land for renewable energy and carbon sequestration, improving both the environment and the local economy." We need to say, here are some issues, some short-term solutions and steps we can take. There are pots of money – we need to start these roundtables, get past the silos, imaginary stateliness and congressional districts, invisible lines in the sand that don't exist from a watershed or regional resource perspective."
Susan Holmes, a consultant to Save Our Wild Salmon, has worked on several environmental issues related to Water In Congress. "Educating congress and their staff is a process. Just because a member of congress has a position now doesn't mean that they won't change in the future. Never be disheartened, don't give up. Don't assume that things won't change. Go in there with positive thoughts and recognize that the public can educate members of congress and can change their mind."
Jeanette Brown has been to Congress both on behalf of the wastewater utility for which she works (as an advocate) and as President of The Water Environment Federation, a not for profit technical & educational organization of water quality professionals (as an advisor). Speaking of her advisory role, she says, ""The first time that I testified before a congressional committee, I was sort of petrified. At first I was intimidated, but then I realized that [Members of Congress] are real people. ... The real key is to get involved with the staff. ... The most important aspect was developing credibility. If we said something, we could back up with technical support - they could trust you."
In order to become engaged, each of these Water Citizens has worked to understand Water in Congress – which is not a simple matter. In 2012, the Congressional Research Service (CRS) identified 26 different federal agencies responsible for water-related activities - all of which are impacted by the ongoing budget uncertainty. The CRS report also identified 15 different committees in the House and Senate with responsibilities for oversight and funding of these federal activities. Often, there is little coordination among the committees on different aspects of the same issue, or where there are multiple federal programs involved.
The KWIC program was designed to provide a common understanding of water legislation and congressional processes across issues and agency programs. More information is available at the KWIC website (http://www.waterincongress.com) as well as on Twitter @WaterInCongress and Facebook at https://www.facebook.com/pages/Water-In-Congress/571959202852800.
The KWIC program is consistent with Water Citizen's mission as an advocacy-free communications and education company for people passionate about water. Water Citizen's goals are to elevate the water dialogue, improve the water information infrastructure, and "make water sexy." Water Citizen is a non-partisan, non-advocacy media communication organization, providing water news, education, and WaterTainment(TM) for people who are passionate about water. Water Citizen does not engage in lobbying activities. For more information visit http://www.WaterInCongress.Com & http://www.WaterCitizen.com.