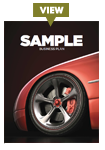 A smart business person wouldn't bring a half-finished product to market.
Las Vegas, NV (PRWEB) December 27, 2013
"A business plan is a tool, and like any other product, it must be carefully crafted and perfectly balanced to hit just the right notes for success," said Joseph Ferriolo, president of Wise Business Plans, which creates plans for national and international startups and expanding businesses. "It's not enough the come up with a good concept, or even to research every facet of quality product design -- if you don't have strong, clear financials to present to potential investors, you won't get funded.."
Ferriolo said potential and expanding business owners who recognize that a business plan is a key part of designing a strong company come out ahead and are prepared for the future.
"A smart business person wouldn't bring a half-finished product to market," he said. "But entrepreneurs hand incomplete or poorly packaged business plans to venture capitalists every day. Your company concept itself is the biggest sale you'll have to make. It can't be sold haphazardly."
The difference between a brilliant idea that never makes it to the market and a concept that redefines its industry is a matter of degrees, said Ferriolo.
"There are people all over the world with a beautiful prototype and a dream. If you can't get funded, your chances of success are low. And if you don't have a business plan, you're designing a way to fail, not a way to succeed."
Wise Business Plans (http://www.wisebusinessplans.com), staffed with professional MBA writers, researchers and financial experts, is a trusted partner for businesses across a broad spectrum of products and services. Our mission is to empower our clients to make the best possible business decisions, boost company performance and facilitate their funding success by laying the groundwork for strong businesses that excite, inspire and retain talented and exceptional employees.