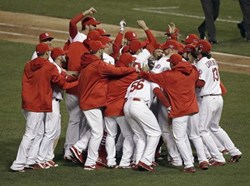 (PRWEB) October 24, 2013
This is going to be a "True World Series," is what they are calling it. For the first time this season, the Boston Red Sox will be meeting the St. Louis Cardinals in the final series of the year, and it will be face to face.
The last time the Red Sox played in St. Louis, it was 2008. And the last time the Cardinals played in Boston, it was 2005. Cardinals' starter Adam Wainwright has never pitched to Boston in his life, and his first time will be the most important. For many Cardinals' players, they have never played Boston either, they have never been to Fenway park. That is why this matchup is going to be a "True World Series."
In Boston, no one knows much about this so called, Cardinals team. During the regular season, its just a team from the National league that they never play, that they never have to be worried about. No one knows their players or stats. No one remembers that they went to the World Series two years ago, and just barely missed making it last year. Boston fans know that they have the best record in baseball, but they don't know that St. Louis is tied with them, with 97 wins as well. Everyone is going in blind, and one team is coming out a winner.
The Red Sox last went to the World Series in 2007, so it's been a few years. They did, however, sweep the Rockies to take Pennant. It was their 7th World Series win. The Cardinals last went in 2011, when they won their 11th World Series Championship. Next to the Yankees who have 27 World Series wins, the Cardinals come in at number two in the MLB. For a team that had an 86-year-old curse of winning the World Series, the Red Sox have not done too bad for themselves. With 7 World Series wins and 11 appearances, they come in at fifth in the league.
This is going to be an thrilling, exciting World Series. Two great teams that are unfamiliar with each other's play, and we have ourselves a ball game. Tickets can be tricky to find and somewhat expensive, but not when purchased at http://www.Ticketmonster.com. Ticket Monster has World Series tickets available up until the game has already begun. Purchase your World Series tickets today from Ticket Monster, and while on the site stay updated on the series with the active blog. The two best teams in the league will be meeting for the first time all year, and it is not something fans are going to want to miss.