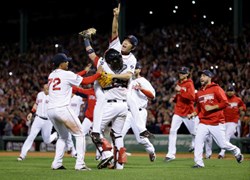 (PRWEB) October 25, 2013
Back in the 2004 World Series, the Boston Red Sox stunned the St. Louis Cardinals in game 1, in a very similar fashion to the first game of this 2013 World Series. In that 2004 series, the Red Sox went on to sweep the Cardinals and take the Pennant. Will this happen again? Let's find out.
Wednesday night at the famous Fenway Park, Sox starting pitcher Jon Lester had one of the best games of his career, so far, as he cruised his team to an 8-1 win over St. Louis. In the very first game of the World Series, it can never be a good sign to lose by that much. Sorry, Cards.
Stars of the Game
Lester pitched almost seven and a half shutout innings. He allowed only five hits, which were all singles, with one walk and eight strikeouts. So far in this post season, Lester has three wins and one loss, with a 1.67 ERA. In Lester's career he has a 2.07 ERA in twelve post-season games. The word "star" is right.
Another talented player that performed well Wednesday night also did so in the 2004 first World Series game. Yes, you've heard the name before, David Ortiz had a home run in game 1 nine years ago, and had another this time around. In the seventh inning, David Ortiz hit a home run, the first ever given up to a left-hander by Cardinals rookie pitcher Kevin Siegrist. Left-handers in the regular season only hit .118 against Siegrist and slugged .127.
In the second inning, "Big Papi", as Boston fans would call him, almost had a grand slam. He was unfortunately robbed of that opportunity by an outstanding catch by Carlos Beltran, who then went to the hospital for bruised ribs on the play. In the fourth inning, he then had a single into center field. One might say Ortiz had quite the night. Ortiz has been playing well all season and post season, with the honor of being the team's best hitter in the ALCS with two homers and two doubles.
Boston sports, once again, could not have had a better evening. The Boston Bruins also played Wednesday night, as they beat the San Jose Sharks 5-2, giving the team their first loss of the season. The Boston Celtics also won, as they closed out their preseason with a 101-97 win over the Nets. With Boston sports having quite the year, tickets to all sports games will be selling fast. Fans can find Red Sox tickets, Bruins tickets, or Celtics tickets at http://www.Ticketmonster.com. Ticket Monster is the number one spot on the web to find all Boston sports tickets. Visit the site today to purchase your World Series tickets and watch the Red Sox defeat the Cardinals. Can they sweep them like back in 2004? Visit Ticket Monster to find out.