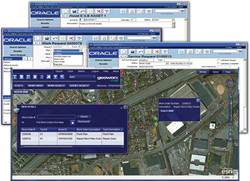 "We believe GIS is a powerful, yet often underutilized enterprise technology that can deliver operational results quickly, especially when integrated with an EAM system," said Skip Heise, president of GeoNexus Technologies.
Ann Arbor, Michigan (PRWEB) October 02, 2013
The Washington Suburban Sanitary Commission (WSSC) has selected GeoNexus Technologies under a enterprise-wide licensing agreement to deliver and implement the GeoWorx® product suite, in support of the utility's Geographic Information System (GIS) and Enterprise Asset Management (EAM) integration initiatives, following a successful pilot earlier this year. As the nation's seventh largest water & wastewater utility overseeing $1.5B in treatment, collection and distribution linear and plant-based infrastructure assets, WSSC sought to leverage their extensive geodatabase through the integration with Oracle Utilities Work & Asset Management to perform work and asset management transactions from within a web-based GIS application. The utility manages its water infrastructure (water mains and appurtenances), sewer infrastructure, and landbase (municipal boundaries, grids, pressure zones, etc.) within Esri® ArcGIS for spatial analysis and mapping of those assets.
While GIS and EAM are traditionally two separate systems, they share a myriad of common data and support a variety of like business processes such as work orders, service requests, dispatch, customer support, etc. Through the GeoNexus Technologies product suite – GeoWorx – the power of GIS and EAM are combined to provide visual tracking and management of enterprise assets and resources, which is paramount to reliable and timely work execution and ultimately exceptional customer care, safety & regulatory compliance. As the preferred geospatial partner for Oracle Utilities, and as an established solution provider to the global Oracle utility community, GeoNexus' provides a comprehensive product suite comprised of GeoWorx Sync®, GeoWorx Map®, and GeoWorx Sketch®.
GeoNexus' flagship product, GeoWorx Sync, delivers bidirectional synchronization so that data can be updated in either GIS or Oracle Utilities Work and Asset Management and provides seamless use of common data from both systems in their native environments. WSSC's users benefit from full functionality of Oracle's querying, editing, and reporting on asset information while data is also available in GIS for thematic mapping, spatial query, and map generation.
GeoNexus tools for advanced work management – GeoWorx Map – provides WSSC with the ability to view and manage distributed and linear assets, work backlog (corrective, emergency and preventive) and resources in the spatial context on a map. This is particularly beneficial to integrated customer care operations, dispatch and automatic vehicle location (AVL) tracking. GeoWorx Map is an enterprise web-based GIS viewer based on Esri ArcGIS Server and Apache Flex®.
GeoWorx Sketch is a comprehensive enterprise redlining or sketching system which offers a complete workflow-based solution starting with the initial redline creation, continuing with redline sharing and submission and commencing with redline processing by the GIS editors. Field-friendly map sketch, mark-up and approval routing capabilities are featured in the GeoWorx Sketch product, enhancing communication and collaboration throughout WSSC while improving the integrity of GIS and asset data.
About GeoNexus Technologies
As the preferred geospatial partner of Oracle Utilities, GeoNexus Technologies offers collaborative software solutions for capital-intensive organizations faced with asset, facility, fleet and infrastructure challenges. We specialize in products designed to address today's business climate by leveraging state-of-the-art asset management, visualization and business intelligence information technologies. Our expertise in Geographic Information Systems (GIS), Enterprise Asset Management (EAM), Customer Information Systems (CIS), and Enterprise Resource Planning (ERP) helps thriving enterprises address return on investment and customer service priorities, particularly those with large infrastructure networks and distributed/linear assets. For more information, visit http://www.geo-nexus.com.
About WSSC
Established in 1918, today WSSC is among the largest water and wastewater utilities in the nation, with a network of nearly 5,600 miles of fresh water pipeline and more than 5,400 miles of sewer pipeline. Serving 1.8 million residents in Prince George's and Montgomery counties, WSSC drinking water has always met or exceeded federal standards. For more information, please visit http://www.wsscwater.com.