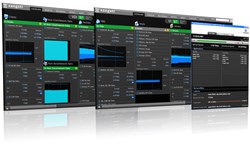 Xangati's ground breaking technology solves a very real problem - indeterminate performance issues that plague virtualized cloud environments today. - Roy Thiele-Sardina, Managing Partner at Highbar Partners
San Jose, Calif. (PRWEB) November 06, 2013
Xangati, a leading provider of VDI, workload and cloud performance management solutions announced that it has raised $11M in funding led by HighBar Partners with participation from Citrix.
Since its founding in late-2006, Xangati has consistently delivered unprecedented live performance management valued by IT administrators to proactively detect and correct performance bottlenecks that otherwise would take them days of complex analysis to discover. Unlike most performance management solutions that give a static and stale view of IT metrics, Xangati collects and collates more than a million metrics and interactions per second and intimately understands the causality of the behavior and interactions between objects across silos.
The Xangati advantage provides unparalleled second-by-second insights coupled with automated alerts and remediation recommendations – giving cloud and VDI administrators a DVR-like recording instead of a static snapshot from which to proactively manage the performance of their infrastructure.
"Virtualized workloads offer a complex and intertwined infrastructure that requires a new paradigm of performance management. We have carefully designed the Xangati solution to not only highlight where the performance bottlenecks are in the infrastructure, but also show why they are taking place and how to remediate them," said Jagan Jagannathan, Founder, CTO & acting CEO of Xangati. "We are pleased to have raised $11 million from HighBar Partners with participation from Citrix. We plan to use the funding to further accelerate our innovation and market adoption."
"Xangati's ground breaking technology solves a very real problem - indeterminate performance issues that plague virtualized cloud environments today," said Roy Thiele-Sardina, Managing Partner at Highbar Partners. "We are impressed with the progress the company has made so far and look forward to their future growth and innovation."
Roy Thiele-Sardina and John Kim, both Managing Partners at HighBar, have joined the Xangati board.
"Xangati has the unique advantage of collecting intelligence at all levels of the infrastructure and analyzing it to offer highly valuable insights," said Andy Cohen, VP, Strategic Development at Citrix. "We look forward to solutions that Xangati can offer in a data driven world."
Additional Resources:
Website: http://www.xangati.com
Videos: http://www.youtube.com/xangati
twitter: @XangatiPress
LinkedIn: http://www.linkedin.com/company/xangati
Customer Case Studies and Testimonials: http://xangati.com/customers
Sales Inquiries: sales(at)xangati(dot)com
About Xangati:
Xangati is the recognized leader for cloud and workload performance management solutions. Over 300 customers among enterprises, government agencies, healthcare organizations, educational systems and cloud providers use Xangati's solutions to gain unprecedented performance management of their cloud and VDI environments. Xangati's solutions built on patented technology proactively track the health of key IT metrics that impact the performance of applications and users, accurately diagnose the cause of any performance bottleneck and recommend remedial action when a bottleneck is discovered. Organizations like Ebay, Comcast, British Gas, Guess, Colliers International, Univita Health, Harvard University and the US Army use the Xangati Management Dashboard suite of solutions with its massively scalable live and continuous recording ability to ensure their business-critical applications perform at optimal levels. Xangati is headquartered in Silicon Valley and can be found online at http://www.xangati.com.
About HighBar Partners:
HighBar Partners is a private investment firm focused on strategic growth capital investments in enterprise and infrastructure software companies. We are a creative and engaged investor with resources and relationships to assist management teams with financial, strategic and operational execution. Our unique model makes us an ideal partner when evaluating and structuring investments in companies undergoing significant change or transition.
HighBar's principals have founded, operated or invested in over 100 companies in the technology sector. We have a successful history doing this as investor operators, and our commitment is to partner with management teams and co-investors to add significant value beyond the financing.
For press and media inquiries contact: Ashlynn Polini at apolini(at)xangati(dot)com