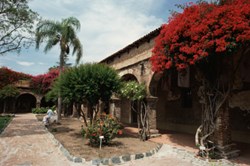 Orange County home values have increased by about $170,000 on average over the last year, greatly outweighing even the tremendous numbers that Orange County posted as a whole.
Orange County, California (PRWEB) August 22, 2013
The Edie Israel Team reports that with the average Yorba Linda home accruing roughly $140,000 in value through the first eight and a half months of 2013, it's safe to say that this has been a remarkable year for the Yorba Linda real estate market. But what may be even more assuring to Yorba Linda homeowners and the rest of Orange County is just how well the market has continued to perform since mortgage interest rates spiked from their historically low levels in May. And a recent survey on all of Orange County by real estate tracker DataQuick reaffirmed that this market is alive and well at a time when other markets around the nation are often subsiding from their early 2013 success.
DataQuick's most recent report showed that Orange County experienced it best July figures for home sales and prices since as far back as July 2005. These seven-year highs included a 19.9 percent price gain on Orange County homes year-over-year from July of 2012, and also a dramatic boost of 42.6 percent in terms of the number of homes sold in the area year-over-year. With the median home value at $539,500 for Orange County in July, this was an $89,500 rise in the average home value in the span of just 12 months.
CLICK HERE for more on Orange County real estate trends.
But if things were sunny in Orange County as a whole, they were even sunnier in the much-in-demand Yorba Linda home market. An August 12 report from California-based real estate analytics company Altos Research saw the seven-day median list price for Yorba Linda homes at $939,000. This is a number that has been on the upswing all year, including being up from the market's 90-day average of about $900,000 at the end of July.
Taking into account both the DataQuick figures for Orange County and the more site-specific Altos figures for Yorba Linda, it becomes clear that Yorba Linda is in some ways outperforming the record-setting numbers that have instilled so much seller confidence all around Orange County. After all, if you compare the gains that Yorba Linda has seen from the end of August in 2012 to end of August this year, there's about a $170,000 increase in the average home value year-over-year. At a 19 percent gain, this is right on par with with the Orange County overall numbers, but the $170,000 uptick in average Yorba Linda home values greatly outweigh the $89,500 that the county saw as a whole over the same period of time.
"Yorba Linda is undoubtedly one of the hottest markets in the Orange County area this year, and the massive spikes we've seen in home values have done wonders for the local real estate economy," said Edie Israel. "It's our hope here at The Edie Israel Team that the remarkable growth within our beloved Yorba Linda housing market will only continue as more buyers vie for their piece of the pie in this highly sought after area."
About the Edie Israel Team:
An award-winning Yorba Linda real estate agent, Edie Israel has more than 20 years of experience in the real estate business. Her Yorba Linda real estate team has assisted countless buyers and sellers throughout the Orange County area, and is well-reputed for delivering some of the premier real estate opportunities available in all of Southern California. To discuss Yorba Linda-area real estate with a member of Edie Israel's team, call 714-623-3543.