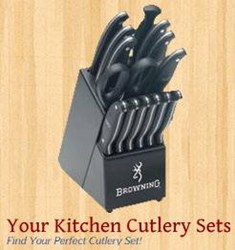 (PRWEB) December 06, 2013
Randy Lee is pleased to announce the creation and launch of his new website venture, http://www.YourKitchenCutlerySets.com. The website offers a large variety of kitchen cutlery including knife block sets and Japanese knives, as well as knives from some of the top brands in the industry. Lee has a lot of experience selling cutlery and cookware and knows how important it is to have quality cutlery when it comes to the preparation and overall presentation of food.
There are many excellent products developed by the best brands in the industry available within the merchandise of YourKitchenCutlerySets.com. There is a complete line of Victorinox knives, which is quite extensive and perfect for meal preparation. There are also a large number of delicate Japanese knives that can be used to slice vegetables and fish precisely for Japanese-influenced meals. In the future, Lee intends to further expand the product lines available on his website. By periodically updating the merchandise offered on the site, he hopes to encourage customers to keep coming back to the online store to check out what new items have been added.
Lee is very aware from how things work in relation to food preparation and takes pride in the quality of knives that are offered on YourKitchenCutlerySets.com. He wants to help his customers become makeshift chefs and prepare quality food for their family and friends with the cutlery available on his website.
To complement the main website, Lee is also launching a blog located at http://www.CutleryBlog.com. The blog will feature topics related to the different types of knives prominently featured in the online store. Lee will discuss what each of these knives can do, as well as discussing food preparation in general and how the knives are properly used. Lee's intention with the blog is to help guide customers towards making informed decisions when purchasing products from the main website.
About the Company:
YourKitchenCutlerySets.com -- a division of Lee Global Enterprises, Inc. -- is owned and operated by Web entrepreneur Randy Lee.
Randy Lee
http://www.YourKitchenCutlerySets.com
(800) 664-5104
iePlexus, Inc.
http://www.iePlexus.com