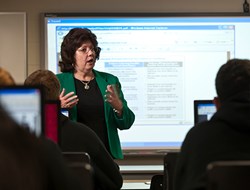 Crisis preparedness is inherently reactive. However, it has been suggested that enough campus disasters have occurred to begin developing an all-crisis management model.
Reading, PA (PRWEB) August 23, 2013
As students prepare to return to campuses across the nation this week — shootings, bomb threats, and natural disasters are becoming too commonplace to ignore. Schools are preparing by adding emergency alert systems, building comprehensive emergency plans, and running drills. But is it enough?
Dr. Peggy Bowen, criminal justice professor and head of psychology at Alvernia University, who recently completed a major research study on the topic, says unequivocally "no."
"Colleges and universities are missing the boat when it comes to learning from past mistakes," said Bowen. "What our study found is that while many schools have done an exemplary job in developing plans to respond to crisis situations, most leave them on a shelf until something bad happens, and then expect their organizations to respond like a SWAT team and that is just not realistic."
Based on her research, Bowen offers several important tips, along with a reality check for the higher education community.
"In the cases reviewed for the paper, we found that administrators would get excited about the situation which had just happened, establish task forces, meet, and develop policy and procedures. They would congratulate themselves on a job well done and then fail to implement the policies and procedures they had developed. Rarely did they follow through by even holding practice scenarios."
"Emergency Preparedness in Higher Education: The Differences Between Research and Practice" outlines the important role of leadership in emergency preparedness.
"Responsible higher education leadership can learn much from reviewing major historical incidence of campus crises," says Bowen in her report. "While it may be impossible to plan for every contingency, enough incidents have occurred that some generalizations may be made that would be useful across contexts. In fact, emergency response plans are now being adapted to a variety of crisis scenarios."
As an award winning Associate Professor of Criminal Justice, Chair of the Psychology and Counseling Department and Chair of the Institutional Review Board at Alvernia University, Peggy C. Bowen-Hartung, Ph.D., C.T.S., is a respected teacher and trauma specialist. Her latest research, conducted with Alvernia doctoral student, Tracey L. Brown, MA, was presented at the inaugural Oceania Conference of the International Leadership Association (ILA), held in Auckland, New Zealand — where the two were the only Americans to present work.
Bowen's research explores a potential connection between the theoretical framework of transformational leadership and emergency preparedness. "In the wake of major incidences, researchers evaluate established best practices and opportunities for further advancement," said Bowen in her report. "However, a theoretical framework of leadership has not been identified to guide these practices." Though Bowen believes her research is significant for leaders in other setting, she explains that it has particular significance for leaders in higher education "in organizing a comprehensive plan for emergency preparedness grounded in established leadership theory."
Bowen says that further research on emergency preparedness should explore the role of leadership style in crisis management. And she stresses the cruciality that higher education researchers and practitioners continue to address the lag time between the research and development of best practices in emergency planning.
"Crisis preparedness is inherently reactive. However, it has been suggested that enough campus disasters have occurred to begin developing an all-crisis management model," says Bowen.
In addition, Bowen suggests that schools should consider adding a "post-crisis phase" to their emergency planning models, to be better prepared for the days following a major incident on campus.
ALVERNIA is a thriving university that empowers students through real-world learning to discover their passion for life, while providing the education to turn what they love into lifetimes of career success and personal fulfillment, helping them make the world a better place. Situated on a scenic 121-acre suburban campus in historic Berks County, Pa., the university of more than 3,000 students is conveniently located near Philadelphia (60 miles) and within an easy drive of New York, Baltimore and Washington, D.C. With a College of Arts and Sciences and College of Professional Studies, Alvernia today offers more than 50 undergraduate majors and minors and a range of graduate programs at the master's and doctoral levels through its School of Graduate and Adult Education. Satellite sites are located in Philadelphia and Schuylkill County. As one of only 22 Franciscan institutions in the country, Alvernia's focus on caring for each other, the environment and the community are joined with a challenging educational experience to provide an unparalleled environment to grow, develop and mature as a person and professional.