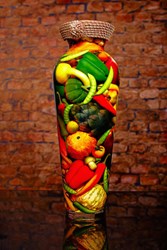 We simply wanted to carry the bountiful beauty of the Tuscan kitchen home with us - Owner Lynda Calder
Redmond, WA (PRWEB) August 14, 2013
Sarabella Tuscan Jars announces its debut collection of home accessories, artfully created by husband and wife artist team Lynda and Jim Calder.
Their passion for the visual feasts of Tuscany was ignited eight years ago while attending cooking school. With painstaking attention to the quality and longevity of their creations, Sarabella Tuscan Jars has now come to fruition, featuring hand-crafted fruits and vegetables artfully arranged and permanently suspended in blown glass jars.
The fruits and vegetables are sculpted and air brushed by hand, each a unique artistic feat in its own right. Their luminous realism echoes the lush bounty of Tuscany. Real produce in jars remains beautiful only temporarily – even carefully preserved, it eventually fades and ferments. By contrast, Sarabella Tuscan Jars art pieces retain their rich color indefinitely thanks to the organic, proprietary solution surrounding these vibrant fruits and vegetables.
The use of recycled glass for the jars that house the individual pieces of produce is a crucial detail. With an eye on environmental consciousness and a desire to emulate the "old world" feel of Tuscan decor, the majority of the glassware used is recycled, imported from Spain and Italy, and hand-blown into these iconic vessels.
Recycled glass, with its natural imperfections, including ripples, bubbles and striations, pairs perfectly with the hand-crafted produce that is so realistic, you can even spot the subtle variations you'd find on ripe, fresh fruits and vegetables.
"We simply wanted to carry the bountiful beauty of the Tuscan kitchen home with us," says Lynda Calder, of her trip with her husband to the famous cooking school, Villa Delia, in Tuscany. "We revel in the joy of being surrounded by fine and beautiful things," she says. These artful, decorative accessories allow the Calders to share these passions with discriminating American decorators, homeowners and businesses.
Prominently displayed in a Seattle-area, high-end hotel, Sarabella Tuscan Art fruit and vegetable decor jars set the stage as guests enter, for the decadent experience they expect from the stylish, upscale location. These striking pieces create depth and atmosphere in a gourmet shop, prestigious restaurant or chic home.
Currently available exclusively at SarabellaTuscanJars.com, each piece is entirely unique. Because the components are hand made with such care, it takes approximately one month to see a single jar through to completion. The ability to commission custom shapes and colors, or shop pre-made pieces by the eight distinctive jar shapes, enables selection of a unique art piece customized to complement its intended surroundings. These distinguished jars carry meaningful presence in a room, creating an ambiance of bounty and opulence.
About Sarabella Art Jars
Lynda and Jim Calder founded Sarabella Art Jars after a 2005 trip to Tuscany, where they learned from master chef Umberto Mengi at Villa Delia cooking school. Carrying the spirit of those surroundings and the beauty of its bounty home with them, they revel in realizing their dream to combine their deepest loves: food, décor and artistry; which have culminated in captivating, unique works of fine art.