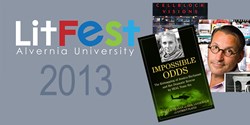 Reading, Pa. (PRWEB) September 18, 2013
The 2013 Literary Festival at Alvernia University kicks off Oct. 5 and continues for three weeks, featuring more than a dozen events ranging from discussions with internationally known artists and authors to the annual Masquerade Bash on Oct 25. All events are hosted on Alvernia University's Reading campus and are free and open to the public.
Major events include:
Mon., Oct. 7 - Laura Schroff will discuss her book, "An Invisible Thread," the true story of an 11-year-old panhandler, a busy sales executive, and an unlikely meeting with destiny. (Bernardine Lecture Hall, 6:30 p.m.)
Tues., Oct. 8 - Dr. Bongrae Seok, assoc. professor of philosophy, will discuss his book "Embodied Moral Psychology & Confucian Philosophy." (Franco Library, 1 p.m.)
Thurs., Oct. 10 - Phyllis Kornfeld, author of "Cellblock Visions: Prison Art in America," has conducted visual arts programs with incarcerated men and women for 25 years – from county jail to death row – in 18 institutions in seven states. (Franco Library, 1 p.m.)
Tues., Oct. 15 - Retired Reading Eagle editor Chuck Gallagher and Kirk Lawrence-Howard will perform the play "Trumbo" based on screenwriter Dalton Trumbo, who was blacklisted after refusing to testify before the House Un-American Committee's investigation into Communism. (Bernardine Lecture Hall, 1 p.m.)
Wed., Oct. 16 - Graphic designer Chip Kidd will talk about his life and work including creating the classic movie poster for "Jurassic Park." (Bernardine Lecture Hall, 2 p.m.)
Mon., Oct. 21- Somali "land pirates" kidnap victim Jessica Buchanan and her husband, Erik Landemalm, discuss her kidnapping and rescue told in their book "Impossible Odds". (McGlinn Center, 6:30 p.m.)
Tues., Oct. 22 - Local outdoor writer Bob Ballantyne will give a presentation on his book "Woodlands, Waterways and Mother Nature." (Franco Library, 6 p.m.)
Wed., Oct. 23 - Annual Inter-College Poetry Contest, hosted by Dr. Richard Law, assoc. professor of English. (Franco Library, 2 p.m.)
Thurs., Oct. 24 - Award-winning author Gale Martin will discuss her witty women's fiction book "Grace Unexpected". (Franco Library, 1 p.m.)
Visit http://www.alvernia.edu/literaryfestival for a full calendar of 2013 Literary Festival events at Alvernia University.
ALVERNIA is a thriving university that empowers students through real-world learning to discover their passion for life, while providing the education to turn what they love into lifetimes of career success and personal fulfillment, helping them make the world a better place.
Situated on a scenic 121-acre suburban campus in historic Berks County, Pa., the university of more than 3,000 students is conveniently located near Philadelphia (60 miles) and within an easy drive of New York, Baltimore and Washington, D.C. With a College of Arts and Sciences and College of Professional Studies, Alvernia today offers more than 50 undergraduate majors and minors and a range of graduate programs at the master's and doctoral levels through its School of Graduate and Adult Education. Satellite sites are located in Philadelphia and Schuylkill County. As one of only 22 Franciscan institutions in the country, Alvernia's focus on caring for each other, the environment and the community are joined with a challenging educational experience to provide an unparalleled environment to grow, develop and mature as a person and professional.