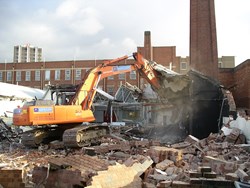 Industrial Surplus employees and personnel are experts in the demolition field and have the know-how to handle any demolition project. It does not matter the hazards.
Houston, TX (PRWEB) September 30, 2013
Industrial Surplus has long been a demolition service provider. Industrial Surplus provides demolition services with residential buildings, commercial buildings, construction, manufacturing sites, chemical and power plants. By providing all of these services nationwide, it has propelled Industrial Surplus into a major vendor for demolition and contract services. Since 1992, Industrial Surplus has provided demolition services for all types of projects while implementing on time delivery and unsurpassed efficiency.
When searching for a good demolition contractor, it is important to know what questions to ask, the scope of the project, and what skills are needed to perform the job right. It is a skill that you must learn while on the job. It is not taught in any textbook, and its not listed in any college curriculum. How to get the most from your demolition contractor is an on-the-job training exercise. In every case, it requires some level of trust when hiring a demolition contractor.
Begin by doing some research when hiring a demolition contractor. How long has the demolition contractor been in business? What kind of demolition projects have they done in the past? How large were the projects that were implemented? Were the demolition projects completed in the past similar in nature, structure, or engineering?
Industrial Surplus has launched a campaign to get demolition contacts nationwide. Having implemented projects in Michigan, Texas, Canada, Vermont, Louisiana, Connecticut, New York, and more, Industrial Surplus is targeting to become the nation's largest demolition contractor. Large or small projects, complex or simple projects, Industrial Surplus has demonstrated that no project is overwhelming. In 2013, Industrial Surplus performed implemented a large demolition project in Canada. Although the project was thousands of miles from Industrial Surplus' home base in Houston, Texas, they handled the project without an issue, placing its own stamp of diligence, commitment, and hard work into the job. The project was successful. The same effort and practice was demonstrated on a demolition project for IBM in Burlington, Vermont also in 2013. Industrial Surplus have many references and examples of these type of demolition projects -- both large and small.
Cranes, bulldozers, tractors, dump trucks, wrecking balls, excavators, hydraulic shears, rock-breakers, contract labor and the skill set are all needed in a demolition project. Industrial Surplus has all of the equipment and the experience to demolish any building or manufacturing site.
Demolition projects can be dangerous as well. Wrecking balls, chemicals, heavy equipment, electrical wires, and power supplies. Industrial Surplus employees and personnel are experts in the field and have the know-how to handle any demolition project. It does not matter the hazards.
Website: http://industrialsurplusworld.com
Twitter: http://twitter.com/indsurplusinc