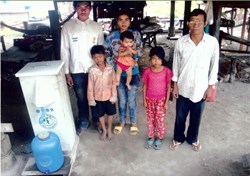 SHREVEPORT, La. (PRWEB) September 24, 2013
A Cambodian village now has clean, safe water to drink from a fresh-water well drilled through a charity:water project sponsored by On Hold Company, CEO Bryant Wilson has announced.
"We are thrilled to announce the completion of this well project," Wilson said. "It's part of a commitment we made a long time ago to use our success to help the greater good."
The well sponsored by On Hold Company is in Kamreong, Cambodia, a village of 911 people. The project took 18 months to complete from the time it was initially funded.
Cambodia has a population of more than 14.5 million people, according to statistics provided by charity:water. Thirty-nine percent of Cambodians do not have clean water, and 71 percent lack proper sanitation. According to UNICEF, nearly 2,000 children die per day worldwide because they don't have access to clean drinking water.
Wilson is proud that his company could provide such a basic need to so many people.
"We chose to work with charity: water because of the great amount of good they do all over the world," Wilson said. "Most of us take fresh, clean, safe water for granted. But the people in Kamreong were drinking water that was making them sick. This well changes that, and we are so thankful to be able to help in this way."
About charity:water
Charity:water (http://www.charitywater.org) is a non-profit organization with the mission to bring clean and safe drinking water to people in developing nations.
About On Hold Company
On Hold Company (http://www.onholdcompany.com) is a leading provider of custom telephone on-hold music and messages. The company has been in business since 1994 and provides on-hold marketing for more than 13,000 clients across North America. On Hold Company also provides digital signage solutions, telephone voice prompts and overhead music and messaging services.