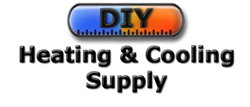 We're excited to add the Glasfloss Filter product to our line...
Clermont, Fl (PRWEB) October 03, 2013
There's an old adage that says there's no place like home, and representatives with DIY Heating and Cooling say the new Glasfloss filters that they've added to their product line ensures that every home and business has the comfort it deserves.
"We're excited to add the Glasfloss Filter product to our product line," said Jason Hite, president and spokesman for DIY Heating and Cooling Supply, an eCommerce company that specializes in providing heating and air conditioning supplies to the general public.
Hite explained that the Glasfloss Z-Line Series pleated filters offer improved performance and reliability for virtually every application.
All Glasfloss Z-Line pleated filters, according to Hite, feature fibers which do not absorb moisture and will not support microbial growth.
The company spokesman went on to point out that DIY Heating and Cooling Supply, which also provides products such as furnace filters, air purification systems, capacitors, motors, thermostats, transformer, and more, is different from everyone else on the market due to the fact that most of its competitors do not offer free shipping on their filters or other products.
"We offer our filters by the case to help consumers save money and we offer a free service to remind the customer when it is time to change their filter," Hite pointed out. "In addition, we also offer a free filter change reminder service to anyone who would like it regardless of if they purchase or not."
As to why anyone should purchase DIY Heating and Cooling Supply's newly added Glasfloss filters which are geared toward home owners, renters, businesses, and anyone that's required to change their own filters, Hite said, "Our Glasfloss filters are of the highest quality available and our prices are among the best online. We also offer free shipping on all filter orders as well as free shipping on any order of $149 or more."
For more information, please visit: http://www.diyheatingandcoolingsupply.com.