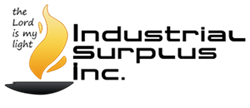 All surplus equipment will be considered. Inventory is needed for 2014. All equipment will be considered.
New York, NY (PRWEB) November 27, 2013
There are so many black Friday deals where most companies are trying to lure in customers with their sales and unbeatable deals. Industrial Surplus World announces the opposite with its last and largest buying trip of the year before 2013 -- curtains falls.
"We're always buying, always selling" adds Gino Parker who heads the Presidential reins of the company. Industrial Surplus has their diary chock-a-block with appointments with several major industrial key players of the nation and is also accepting more appointments so during the last month of 2013 more deals can be closed which will be mutually beneficial to the associates involved.
Industrial Surplus is looking for any used, new or surplus inventory that major industrial companies will have for sale or just want to get it out of the way to increase the revenue in their books. Industrial Surplus is interested in surplus Valves, Electric motors, Allen Bradley Electrical equipment, Bus way Plugs, Boilers, Chillers, Air Compressors, Switchgear and Large Transformers.
Industrial Surplus is looking to buy it all at a price that will be difficult to refuse in a hassle free transaction. "We also do our own logistics so things can move easily from point A to point Z without having to dwell in endless conversations about shipping and delivery" adds Gino Parker.
Industrial Surplus Inc.'s buying trip will include the following states: South Carolina, North Carolina, Virginia, West Virginia, Kentucky, Pennsylvania, Ohio and New York. Industrial Surplus will be adding more states to this extensive end of year buying trip as the appointments are being scheduled.
Industrial Surplus has more than thirty (30) years of experience in buying and selling surplus materials and equipment. Industrial Surplus's warehouse is based in Houston, Texas along with 18 lay down yards all over the states. The company also purchases scrap metal and wiring at unbeatable, unmatchable prices along with buying and selling industrial surplus equipment.
Additional appointments and schedule dates can be made available by contacting Industrial Surplus at 713-644-4011 or visiting the website at http://industrialsurplusworld.com. All locations in the United States will be considered.