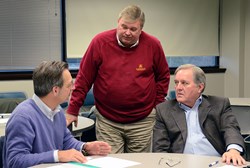 Reading, PA (PRWEB) December 09, 2013
Students in Alvernia University's Marketing Research Seminar (BUS 444) course presented detailed marketing plans for the viability of an aquaponic food bank to Sergei Szortyka, local philanthropist and owner/CEO of Quaker Maid Meats, this week.
Interested in the viability of a nonprofit source of fresh food for the local Reading area, Sergei Szortyka approached Alvernia's Holleran Center for Community Engagement, which helped connect the class to the project. Assistant Business Professor Sam Bradley and two teams of students spent an entire semester working on the project to provide a detailed start-up marketing plan, market analysis, target market profile and size, and an organizational plan that included an initial rollout and a five-year staffing plan. The teams worked independently on the project and presented their recommendations to Szortyka in a formal presentation at the end of the semester.
"They hit the nail on the head," said Szortyka. "Starting small and getting the community involved to grow is the way to go."
Aquaponic farming uses an environmentally friendly symbiotic cultivation of plants and aquatic animals in a re-circulating water-based system that grows fish and a variety of crops.
ALVERNIA is a thriving university that empowers students through real-world learning to discover their passion for life, while providing the education to turn what they love into lifetimes of career success and personal fulfillment, helping them make the world a better place.
Situated on a scenic 121-acre suburban campus in historic Berks County, Pa., the university of more than 3,000 students is conveniently located near Philadelphia (60 miles) and within an easy drive of New York, Baltimore and Washington, D.C. With a College of Arts and Sciences and College of Professional Studies, Alvernia today offers more than 50 undergraduate majors and minors and a range of graduate programs at the master's and doctoral levels through its School of Graduate and Adult Education. Satellite sites are located in Philadelphia and Schuylkill County. As one of only 22 Franciscan institutions in the country, Alvernia's focus on caring for each other, the environment and the community are joined with a challenging educational experience to provide an unparalleled environment to grow, develop and mature as a person and professional.