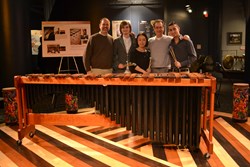 The same passion drives me today as when I built Christopher Hurt's marimba in 1991. -- Ron Samuels Founder, Marimba One
Arcata, CA (PRWEB) December 18, 2013
A sound which is produced by one object striking another. That essentially is percussion--and while it seems simple, it takes special skills and a fine ear to produce a pleasing sound.
Through trial and error, Ron Samuels, founder of Marimba One, was able to create that joyous sound. Now, one of his first creations has been honored at the home of the world's largest organizations for percussionists, the museum of the Percussive Arts Society (PAS).
Of particular note, the donation stipulates that the instrument may be used. Says PAS President John Beck, "To have an instrument of this quality that can be heard by visitors to the Rhythm! Discovery Center is wonderful and will allow us to invite more marimba artists to perform for our guests."
The donation of this early marimba, celebrated last month with star performances by marimba players from two continents, harkens back more than 30 years. Samuels heard a marimba at the Oregon Country Fair in 1982 and was intrigued and entranced by the sound.
A friend suggested that Samuels should build one himself so they could play music together, and Ron then spent the next five years learning proper woodworking at a premier maker of custom bars and counters.
For years thereafter, Samuels and his helpers made marimbas in a tiny garage in Arcata until--because of his successful efforts--he moved in 2005 into his temperature-controlled, 10,000-square-foot production facility.
The marimba at the PAS was donated by Christopher Hurt, who insists: "The biggest thanks go to Ron and Marimba One for crafting this beautiful instrument."
His comment was endorsed by marimbists who played at the PAS, Shoko Sakai of Japan, Conrado Moya of Spain and Arkadiusz Katny of Poland.
The showcase at the Indianapolis museum was not the only honor that Samuels' marimbas received. Marimba One was recently granted a patent by the U.S. Patent and Trademark office for its pioneering work on Basso Bravo resonator acoustics.