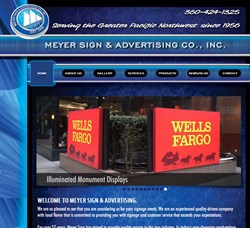 Mount Vernon, WA (PRWEB) December 31, 2013
Meyer Sign & Advertising Co., Inc., a local business offering commercial sign design, repair and installation in the greater Pacific Northwest, is pleased to announce the launch of their new website at http://www.meyersign.com.
This new home on the Internet provides a user friendly, easy to navigate resource for businesses looking for quality, full-service commercial sign services in the greater Seattle area. The new website provides an intuitive menu, quick access to contact the organization and an easy way learn about the various sign services offered.
Other website features include:

Description of the National Sign Program and examples of completed projects
Details on their in-house processes, including design, surveying, fabrication, installation and service
Information on a variety of sign options
Photo gallery featuring actual sign projects, showing before and after photos
The design of the website makes it easy for visitors to connect to the business quickly and easily. Viewers can also effortlessly connect to social media sites, allowing them to stay on top of the latest news from the team at Meyer Sign.
Meyer Sign & Advertising Co., Inc. explains that they were able to create the new website with the help of WSI Marketing Plus. The Portfolio on the website will be updated as additional sign projects are completed. The Portfolio pages are an excellent way for Meyer Sign to showcase the scope of their work, by providing examples of projects in the community.
About Meyer Sign & Advertising Co., Inc.:
Meyer Sign & Advertising Co., Inc., based in Mount Vernon, WA was established in 1956 by John Meyer. Meyer Sign is a full-service commercial sign company with in-house design, fabrication and installation teams. Meyer Sign serves customers throughout King, Snohomish, Skagit and Whatcom counties.