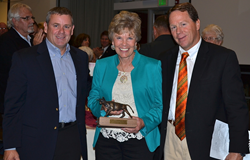 "Don and Deyon provide a great example to all of us on how to combine our skills with our passions to make a difference in the world," said CMU President Tim Foster.
Grand Junction, CO (PRWEB) October 28, 2013
Don and Deyon Stephens were presented the Distinguished Alumni Award during the President's Dinner at Colorado Mesa University on October 24. Deyon Stephens was on hand to receive the award on behalf of the couple who are co-founders of the global charity Mercy Ships.
"The Distinguished Alumni Award is the highest honor the Alumni Association can bestow on an individual. Recognizing these individuals not only brings attention to their high achievements but also displays the quality of education provided by Colorado Mesa University," said Dana Nunn, Director of Media Relations at CMU.
Deyon was presented the award by CMU President Tim Foster. She received a small bronze statuette of a maverick that was designed by an art faculty member and poured at the CMU on-campus bronze foundry. It is a replica of a large bronze statue that is in the middle of campus in what is called Maverick Circle.
"Don and Deyon provide a great example to all of us on how to combine our skills with our passions to make a difference in the world," said CMU President Tim Foster. "Colorado Mesa University is thrilled to honor Don and Deyon as Distinguished Alumni this year, and we are humbled by their grace, their commitment and the amazing work they do around the globe."
Both Don and Deyon Stephens attended Colorado Mesa University. Deyon graduated from the inaugural nursing program at Mesa College in 1966 and received the Colorado Nurse of the Year award. Don and Deyon are very pleased to have been selected for the award. "We are indeed very honored to receive an award from Mesa. This is our home! However, I want to be sure to equally honor all those who work onboard the hospital ship every day, our boards and our financial partners. These groups are the ones deserving honor," stated Don Stephens.
About Mercy Ships
Mercy Ships uses hospital ships to deliver free, world-class healthcare services, capacity building and sustainable development to those without access in the developing world. Founded in 1978 by Don and Deyon Stephens, Mercy Ships has worked in more than 70 countries providing services valued at more than $1 billion, impacting more than 2.42 million direct beneficiaries. Each year Mercy Ships has more than 1,600 volunteers from more than 45 nations. Professionals including surgeons, dentists, nurses, healthcare trainers, teachers, cooks, seamen, engineers, and agriculturalists donate their time and skills to the effort. Mercy Ships seeks to transform individuals and serve nations one at a time. For more information click on http://www.mercyships.org.
For more information contact:
Mercy Ships Media Liaison
Tel: (903) 939 7000
Email: us(dot)media(at)mercyships.org
http://www.mercyships.org
About Colorado State University
A comprehensive university located in the center of western Colorado, Colorado Mesa University provides exceptional educational opportunities on a state-of-the-art campus. As western Colorado's largest university, Colorado Mesa serves students on its main campus in Grand Junction, its satellite campus in Montrose, its community college, Western Colorado Community College, and via online offerings.
For more information contact:
Dana Nunn
Director of Media Relations
Colorado Mesa University
Tel: (970) 640-0421
Email: dnunn(at)coloradomesa(dot)edu
http://www.coloradomesa.edu