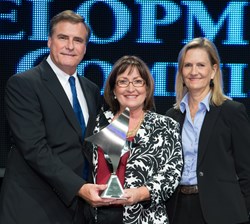 "Staying one step ahead of the industry takes creativity, inspiration, and determination," commented Sefcik. "This award is a testament to our team's hard work and dedication."
Winter Park, FL (PRWEB) October 04, 2013
Employment Technologies Corporation (ETC), a pioneer in employment simulations, was honored by the Metro Orlando Economic Development Commission (EDC) at the William C. Schwartz Industry Innovation Awards luncheon on Thursday, September 26, at Full Sail LIVE. The EDC selects one company from each county in the region – Orange, Seminole, Lake, Osceola, as well as the City of Orlando, and the Florida High Tech Corridor Council – recognizing them for innovative practices and exceptional impact on the region.
ETC co-founder and President, Joseph Sefcik, and ETC Director of Innovation, Joe LaTorre, accepted the award on behalf of the company. The Orange County-based company revolutionized the hiring process for companies worldwide by replacing traditional text-based employment tests with highly realistic, interactive simulations. ETC's innovations save companies thousands to millions of dollars each year by streamlining the HR process, reducing turnover, and boosting employee performance and productivity.
An integral part of ETC's company culture is giving back to the community. The company has donated more than $100,000 to educational and charitable organizations. ETC's co-founder and CEO, Eugenia Sefcik, also established a local community outreach program which sponsors at-risk inner city Orlando youth to attend the life-changing camp, Kids Across America. Since its inception in 2005, the program has provided more than 250 teen scholarships.
"This award is a testament to our team's hard work and dedication." commented Sefcik. "Staying one step ahead of the industry takes creativity, inspiration, and determination. We are honored to receive this prestigious award from such an esteemed organziation."
The William C. Schwartz Industry Innovation Award was named in tribute to the late William C. Schwartz, a Central Florida community leader and innovator in the field of optics and photonics.
Employment Technologies Corporation (ETC) is the pioneer and world's #1 developer of employment simulations. A five-time winner of the prestigious Human Resource Executive, "Top HR Product of the Year" award, ETC's signature line of EASy Simulations® improves hiring, accelerates employee performance, and inspires success. To learn more, visit http://www.etc-easy.com.