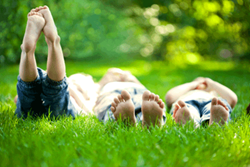 A new study released this year and based on interviews of incarcerated burglars, proves that a security system deters crime.
Irving, Texas (PRWEB) August 15, 2013
Just as quickly as it arrived, your days of fun in the sun are numbered as summer is quickly coming to an end. Many people choose to travel and many use the extra daylight hours to spend as much time outdoors as possible.
Here are a few tips from the Electronic Security Association (ESA) that can help you make it safely through the remainder of the season.
Keep Your Home Safe While Traveling
While August may be the perfect time to head out on vacation, for burglars it's the perfect time to prey on homes left empty.
Protect your home from burglary while on vacation by making it looked lived-in. Burglars pay attention to small details such as dark and quiet interiors, overgrown lawns, piled-up newspapers and even closed curtains that are usually kept open. To make your home appear occupied, invest in timers for your lights and televisions, and program them for times you would normally use them. Enlist a trusted neighbor to pick up your mail or newspapers, and arrange to have someone take care of your lawn if you will be away for an extended period.
A new study released this year and based on interviews of incarcerated burglars, proves that a security system deters crime. You can read the study here. For maximum security and protection of your valuables, invest in security system that is monitored by a central station. In the event of a burglary, your alarm system will send a direct signal to the station notifying them that a break-in has occurred and police should be dispatched to your home immediately. You can find a trusted home security company that is a member of ESA in your area on Alarm.org, a home security resource for consumers.
Be Careful With the Outdoor Grill
Grilling out is a summertime tradition for many that brings together good friends and great food. To ensure your cookout leaves guests with happy memories, the National Fire Protection Association (NFPA) recommends these tips:
∙ Only light propane and charcoal grills in well-ventilated outdoor areas to avoid carbon monoxide poisoning.
∙ To prevent burns or accidents, keep children and pets at least three feet away from the grill.
∙ Always read your grill's manual before operating, since it may have unique operation instructions.
∙ If you smell gas while cooking, immediately contact the fire department. Do not attempt to move the grill – there may be a gas leak, which is very dangerous.
∙ If the flame on a propane grill goes out, immediately turn off the grill and the gas, leave the hood open and wait at least 15 minutes before re-lighting it. Propane is heavier than air and takes longer to dissipate. An explosion could result if the grill is re-lighted too early.
Keep an Eye on the Kids
During the summer, many children are left home alone while their parents work. For some parents, the thought of leaving children alone for several hours a day can evoke anxiety. Fortunately, with new enhanced home control technology, you can keep an eye on your children while you're at the office. You can log in to your system via smartphone, tablet or computer to view live video from surveillance cameras within your home.
You can also customize your system to send special alerts to your smartphone. When children leave the house or wander into an 'off limits' area, your system can send a notification and live video clips directly to your smartphone so that you know what's going on.
Summer is a wonderful time of year - school is out and family and friends get together to enjoy outdoor activities. But no matter the season, safety is always something to keep in mind so use these tips year-round to protect your home and family.
About ESA
Established in 1948, the Electronic Security Association (ESA) is the largest trade association representing the electronic life safety and security industry. Member companies install, integrate and monitor intrusion and fire detection, video surveillance and electronic access control systems for commercial, residential, industrial and governmental clients. In cooperation with an alliance of chapter associations, ESA provides technical and management training, government advocacy and delivers information, advice, tools, and services that members use to grow their businesses and prosper. ESA may be reached at (888) 447-1689 or on the Web at http://www.ESAweb.org.