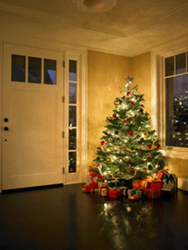 Bright lights and outdoor decorations can bring a home's holiday spirit to life. Before hanging your lights, ensure that all extension cords and electrical decorations are labeled for outdoor use and inspect all decorations for damage.
Irving, Texas (PRWEB) December 11, 2013
The holidays are truly a special time of year; friends and family gather and neighborhoods proudly display holiday cheer. While you prepare for the upcoming holiday season, keep these safety tips from the Electronic Security Association (ESA) in mind to ensure you don't hear an "oh no!" among your "ho, ho, ho's."
With the amount of electricity generated from houses and trees lined with lights, it's no wonder that fire hazards are plentiful during the holidays. The National Fire Protection Association (NFPA) recommends using these fire safety tips to protect your home and family:

If you're hanging ornaments on a real tree this year, make sure your tree is frequently watered. Dry trees burn more easily and have a higher risk of catching fire than those that are moist.
Only use lights on your tree that are classified for use indoors and be sure to check for damage before hanging. Replace broken bulbs and discard any strings that have worn or severed cords.
Always turn off the lights on your Christmas tree and blow out candles before leaving the house or going to bed.
Avoid placing your tree next to a chimney, furnace, space heater or any heat source.
Only adults should light or move candles.
Children should never be left unattended with candles.
Never place lit candles near flammable materials such as drapery, decorations or trees.
Use caution when cooking and never leave the kitchen when frying, grilling or broiling food.
Bright lights and outdoor decorations can bring a home's holiday spirit to life. Setting up these festive trimmings takes effort and so here are a few suggestions to help you deck the halls without landing in the hospital:
Ensure that all extension cords and electrical decorations are labeled for outdoor use.
Inspect all decorations for damage before hanging them up, and avoid overloading extension cords.
Keep cords away from standing water or snow.
Once in place, ensure electrical cords are not pinched in doors, windows, or under furniture, which could cause damage.
Use a wooden or fiberglass ladder when hanging lights, since metal ladders conduct electricity.
Inspect your ladder for missing or loose screws, hinges, bolts or nuts before using.
Never attempt to decorate in poor weather conditions.
Wear appropriate attire when working on the roof or invest in toeholds that will keep your footing secure.
For maximum protection, wear a safety harness.
Help safeguard your loved ones from other holiday hazards with these tips:
Common holiday house plants can be toxic. Keep poinsettias, mistletoe and holly berries out of reach of small children and animals. To further ensure these plants aren't ingested, wrap hanging plants in netting or plastic to catch falling leaves and berries.
Pay special attention to holiday items that could be harmful to children. Decorations that have sharp edges, are fragile or could be swallowed should be kept away from children. Additionally, keep your gift-wrapping supplies stowed away when not in use – these items could pose a suffocation hazard to young children.
Be smart when heating your home. Never place heating equipment near flammable items such as a mattress, bedding, clothing or upholstered furniture. Always be sure that your heating equipment is clean before using.
You don't have to say "Bah, humbug!" and throw out your festive décor to avoid seasonal dangers. With these tips you can protect your loved ones and proudly display your holiday cheer with peace of mind. For more tips, please visit Alarm.org.