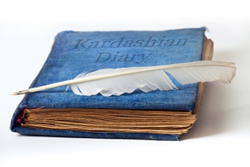 Wills may be a great way to appoint guardians of children, but often wills fall very short when it comes to asset protection and distribution
Boston, MA (PRWEB) September 26, 2013
UltraTrust.com, founded by Estate Street Partners, recently analyzed the case filed on April 4, 2013 which was settled in August, by the Kardashian family in U.S. District Court for the Central District of California (Case No. CV13-02406) against Ellen Pearson, the third wife of Robert Kardashian over the ownership of Robert Kardashian's diary among other items and for infringing on "private personal and copyright protected" material of her late husband's diary and family photos according to court documents (4).
According to LexisNexis's Law360 and International Business Times, the whole issue begins with Robert Kardashian's last will and testament (3) that the Kardashian family asserts that Robert Kardashian (2) bequeathed all of his tangible and intangible possessions to a trust benefiting his children and with, according to court documents, the exception of one house and it's furnishings (5).
Robert Kardashian's estate planning documents (4, 5) define "tangible" property as including "clothing, jewelry, and other personal effects," "books," "works on paper," as well as "other items of...personal use". The Will goes on to define "intangible" property as including "rights in literary...properties, rights in works of art...copyrights, publishing rights, and rights to a deceased personality's name, voice, signature, photograph, or likeness."
"So it seems pretty clear the diary is in the Kardashian children's trust's possession, right?" asks Rocco Beatrice, Managing Director of Estate Street Partners.
UltraTrust.com scrutinizes the case a little further.
Ellen Pearson, who was married to Robert Kardashian for two months before he died in 2003 according to Hollywood Reporter (3). According to court documents, Pearson was the person in the exception who inherited the home and it's furnishings (4, 5).
Bauer Publishing, owner of "In Touch" and "Life & Style", wrote an article on their Feb 4th issue of their "In Touch" magazine called "The Secret Kardashian Diaries" and "Life & Style" magazine had an article on the Kardashians. Hollywood Reporter states that Bauer supposedly received licensed portions of Robert Kardashian's diary and photos from Pearson (3).
"The home and furnishings exception is clear, so one might believe that Pearson own's the diary. The question then may become, 'Does it matter who owns the tangible diary?'" inquires Mr. Beatrice.
Rocco reflects, "The dairy itself is certainly not the house and it is certainly not intangible, but it may be considered furnishings. If it passes the furnishings test, then the tangible object, the actual diary itself, may be Pearson's possession. But, what about the intangible copyrights of the contents?"
The Kardashians claim, according to the Will and its definition of "intangible" property, the copyright contents of the diary and the photos are "incontestably" under the ownership of the Kardashian family according to Hollywood Reporter (3).
"In this age of complicated estate planning, no one knows what is going to happen after death. Robert Kardashian, being one of the best lawyers in the country, couldn't even predict this mess," explains Mr. Beatrice. "The drafters of Robert Kardashian's estate plan couldn't predict it either."
"So, it was possible that the court would have found that Pearson owns the diary itself, but the Kardashians may own the publishing right and copyright contents, but we will never know because the matter was privately settled. Ellen would then be able to hold the diary and read it, but not profit from it," clarifies Mr. Beatrice.
"Wills may be a great way to appoint guardians of children, but often wills fall very short when it comes to asset protection and distribution," explains Mr. Beatrice.
The Kardashians went on to claim that since Pearson didn't list the assets in her bankruptcy proceedings, that she didn't own them or, if she did own them, then she has hidden them from her bankruptcy trustee, which according to the lawsuit "would constitute an admission that Defendant Pearson defrauded the Court and her creditors."
According to the Will and Trust, anything falling under the categories "tangible" property and "intangible" property should go to the trust.
Although, according to court documents, Ellen filed a response (5), that the lawsuit was solely a publicity stunt.
In order to avoid a problem litigation and the unpredictability of a jury, UltraTrust.com suggests that Robert Kardashian would have been better off considering an irrevocable trust vs. a will.
"An irrevocable trust, funded before Mr. Kardashian's death, could have held all of his assets and left instructions for the trustee stating who may have the benefit of what," asserts Mr. Beatrice.
An irrevocable trust could have owned everything that Robert Kardashian left in the last will and testament and simply allowed the beneficiaries to use items. The trust could have been worded in a way to give the trustee final say and thus avoided court or, at least, significantly mitigated the chance of any legal contestations.
"Mr. Kardashian could have left trustee instructions for Pearson to have use of the house and furnishings, but no rights to sell them or rent it. In this way the trust would have preserved all the rights to all of the property."
"Having Ellen inherit anything outright was probably a mistake," posits Mr. Beatrice.
"It is as simple as taking a driver's practice test. An irrevocable trust would have protected the assets during her bankruptcy while simultaneously protecting the Kardashian estate from publishing and copyright issues."
To learn how to protect assets save on estate taxes and probate costs visit UltraTrust.com, the irrevocable trust experts. Visit MyUltraTrust.com to set up a DIY irrevocable trust plan.
###
About Estate Street Partners (UltraTrust.com):
Assets can be protected from frivolous lawsuits while eliminating your estate taxes and probate, and also ensuring superior Medicaid asset protection for both parents and children with their Premium UltraTrust® Irrevocable Trust. Call today at (888) 938-5872.
Sources:
1 - cnn.com/2013/06/04/showbiz/kim-kardashian-divorce/index.html?hpt=hp_bn9 June 4, 2013
2 - http://au.ibtimes.com/articles/497144/20130806/kardashian-sisters-mom-appear-court-settlement-talks.htm#.UkOy3z8gryX July 12, 2013
3 - law360.com/articles/463488/kardashian-stepmom-slaps-reality-stars-with-defamation-suit August 8, 2013
4 - amradaronline.files.wordpress.com/2013/04/kardashian-complaint3.pdf April 4, 2013
5 - amradaronline.files.wordpress.com/2013/05/ellen-kardashian-answer-red.pdf May 14, 2013
6 - ultratrust.com