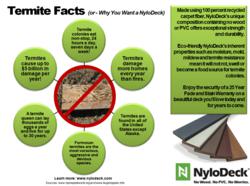 This study proves that NyloDeck can withstand attacks from the toughest and most aggressive termites found in North America.
Covington, GA (PRWEB) July 03, 2013
Great news for NyloDeck owners; bad news for termites: Given the choice to eat NyloDeck or face starvation, termites chose hunger during a recent study performed by the Forest and Wildlife Research Center at Mississippi State University. The four-week testing proved that NyloDeck – a next-generation composite decking material – is resistant to termites, particularly damage caused by the subterranean Formosan termite.
Made using 100 percent recycled carpet fiber, NyloDeck's unique composition containing no wood or PVC offers exceptional strength and durability. The eco-friendly decking material's inherent properties such as moisture, mold, mildew and termite resistance mean it will not rot, swell or become a food source for termite colonies.
Responsible for billions of dollars in damage each year, termite prevention is a serious concern for many homeowners. Although commonly seen among 13 states in the southern United States, pockets of Formosan termites have been seen as far north as the U.S./Canadian border. A native species of East Asia, Formosan termites were introduced to the U.S. in the 40's after WWII and thought to have traveled by way of packing crates and wood products that entered ports in Texas, Louisiana and South Carolina.
The voracious nature of Formosan termites makes them especially worrisome as average sized colonies contain between 5 and 10 million individual termites, capable of eating 1,000 pounds of wood per year.
"They have been known to eat through lead pipes and wire insulation. Claims that they can eat through cement are unsubstantiated, but they are legendary for penetrating cracks in cement, brick, plastic and other obstacles to gain access to food or water sources," said, Michael G. Sanders, Senior Research Associate at the Department of Forest Products, Mississippi State University.
Testing was performed inside a closed chamber, in which proper temperature levels were maintained over a 28-day period. NyloDeck was the only food source offered to termites from a particular colony, consisting of mostly "soldiers." Simultaneous tests, under the same conditions, were performed on untreated southern pine and treated southern pine. The untreated pine was used as control to determine the termite's viability and voracity and the treated pine was used for comparison purposes. At the conclusion of the study, all samples were scored on visual inspection and weight loss. NyloDeck scored 9.9/10 upon visual inspection and finding only "trace nibbles" after four weeks. NyloDeck experienced 300% less weight loss than pressure treated wood and 5,000% less weight loss than untreated pine.
"We previously tested NyloDeck against domestic termites, in which termites were given a choice between untreated pine and NyloDeck. Given the recent changes in ICC acceptance criteria, we wanted to prove that NyloDeck could perform just as well without another food choice, in essence, eat or starve. This study proves that NyloDeck can withstand attacks from the toughest and most aggressive termites found in North America," said Stuart Dimery, National Product Manager.
Backed by extensive testing and a 25-Year Fade and Stain Warranty, NyloDeck is as beautiful as it is strong. Setting the standard for a new generation of decking materials, one of a kind NyloDeck is the only 1" deck board with the ability to span joists up to 24" O.C. With popular color options and a unique embossed grain pattern on each board, NyloDeck incorporates advanced UV protection to ensure great looks today, and for years to come. To learn more about NyloDeck, visit http://www.nyloboard.com
About NyloBoard
NyloBoard, LLC is a manufacturer of superior building products whose patented process uses recycled carpet fiber to create exceptionally strong, durable and eco-friendly products, containing no wood or PVC. NyloBoard products help stop the waste stream of carpet fiber that currently contributes billions of pounds of non-reclaimable waste to landfills each year by using it to create products including NyloSheet® and NyloDeck®. Nyloboard also takes pride in manufacturing eco-friendly building products that are impervious to moisture, rot, termites, mold and mildew. NyloBoard's manufacturing facility is located in Covington, Georgia, just outside of Atlanta.