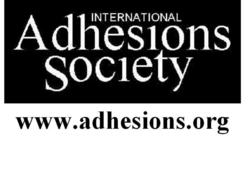 Healthcare providers should offer a variety of pain treatment options, including and emphasizing those that do not involve prescription drugs
Dallas, TX (PRWEB) July 11, 2013
According to recent statistics published by the U.S. Centers for Disease Control (CDC), 18 women die daily from prescription painkiller overdoses, more than ever before. While over 10,000 men died of overdoses in 2010, deaths among women (6,600) increased five-fold (400%) in the previous decade, compared with an increase of 265% in men. These deaths are the tip of the iceberg. For every woman who dies, 30 go to the emergency room for painkiller misuse or abuse. According to the CDC, the opioid problem affects women in different ways than men. Women are more likely to have chronic pain, are prescribed narcotics at higher doses and for longer periods.
This report comes as no surprise to the International Adhesions Society (IAS), whose predominantly female members suffer from debilitating pain and complications related to internal scars resulting from surgery, trauma or inflammatory conditions, such as endometriosis, or related conditions such as irritable bowel syndrome (IBS) or interstitial cystitis (IC). Indeed, the IAS recently submitted its own research to help address gender inequality in women's need for and access to pain relief.
The IAS research was derived from a survey of opioid use in over 2800 chronic pain patients, including 2399 (92%) women, and supported by nine other patient advocacy groups. Over 85% of these patients had used opioids for more than 3 months, and over 70% for more than one year. Side effects were moderate in 27% of patients and severe and intolerable in 21%. Even though side effects can occur at any dose, 24% of patients were taking what are considered high doses of opioids, more than the equivalent of 100mg of morphine daily.
States Dr. Wiseman, Founder of the IAS, "Pain management in America is based on the flawed notion that drugs are the best method for pain relief, and that opioids are the drugs of choice." Dr. Wiseman continues, "It is time we wean ourselves from opioids by funding, developing and facilitating access to pharmaceutical and non-pharmaceutical alternatives to opioids. We welcome and endorse CDC's recommendation that health care providers discuss pain treatment options that do not involve prescription drugs."
Accordingly, the IAS renews its call for expedited FDA and reimbursement approval for newly developed alternatives to opioids as well as expanded reimbursement for existing alternatives such as physical and psycho-therapy. Opioid abuse, misuse, addiction and side effects cost society over $56 billion per year, providing a financial as well as medical incentive to pursue alternatives to opioids.
The IAS also contends that simply imposing stricter limits on opioid prescription labeling, currently being considered by FDA, would curtail access to opioids for millions of chronic pain patients who have few alternatives. According to the aforementioned IAS survey, these proposed limits would render opioid use "off-label" in over 92% of chronic pain patients and reduce access to, or reimbursement for opioids in over 80% of them. "We agree with the CDC that health care providers should responsibly prescribe prescription painkillers by monitoring patients for substance abuse and mental health problems and discussing the risks and benefits of taking painkillers for chronic conditions. But with these precautions, access to prescription pain medications by legitimate pain patients must continue until alternative pain relief methods are more widely available and reimbursed by insurance companies," states Dr. Wiseman.
One such alternative is a therapeutic ultrasound device, PainShield® MD, which was evaluated in a clinical trial by the International Adhesions Society in patients with chronic pelvic, bladder, genital and musculoskeletal pain. The reduction in pain, as well as the lower need for opioids in some patients was considered so beneficial that a company, KevMed LLC, was established to make the device widely available to patients in the United States.
About the International Adhesions Society
The International Adhesions Society (IAS) provides awareness, information, advocacy, support and research for patients and their families suffering from adhesions - internal scars that connect organs or tissues that are not normally connected, as well as Adhesion Related Disorder (ARD) and Complex Abdomino-Pelvic Pain Syndrome (CAPPS). The IAS was founded and is funded by Synechion, Inc., a company providing R&D consulting services focusing on adhesions and related conditions.