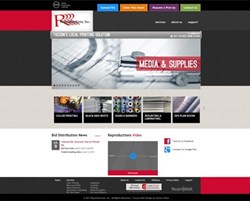 At Anchor Wave, we work with our clients to make their websites reflect the range and qualities of their services and to make the site easily searchable by current customers custom to their needs. Mike Schmidt, CEO and Founder of Anchor Wave
Tucson, Arizona (PRWEB) September 02, 2013
Anchor Wave Internet Solutions, Inc. launched its latest website for Reproductions, Inc. a Tucson-based printing services company. The new design of Reproductions Inc. reflects the company's mission to provide top-of-the-line printing services while delivering great results and outstanding services to each of their customers.
The new website is focused around the customer with the goal of making the printing process easy, successful and enjoyable. Anchor Wave has integrated user friendly online programs giving Reproductions' customers the option to upload their printing projects online from a computer.
"It is time to take our web presence to the next level," said Russ Blankenship, president of Reproductions, Inc. "We wanted to create a website with integrated online capabilities for our customers enhancing their experience while still delivering great results."
"At Anchor Wave, we work with our clients to make their websites reflect the range and qualities of their services and to make the site easily searchable by current customers custom to their needs," said Mike Schmidt, CEO and founder of Anchor Wave Internet Solutions. "A business website should also be a great new client recruitment tool and we keep this as a priority as we build search engine optimization into the website."
Enhancements to the website include:

Improved Navigation – lets customers find the information they need to learn more about Reproductions, Inc. printing services and materials options for small and large scale projects including indoor and outdoor signs and banners.
Clean User Interface – allows the customer to get as in-depth as they choose with easy to navigate information.
New Features – Customers may now upload their digital files for printing and delivery using the website. Reproductions, Inc. has also created a DFS Plan room providing on-line document management services, allowing customers to capture and distribute documents anywhere at any time.
Anchor Wave Internet Solutions, LLC
Founded in 2003, Anchor Wave Internet Solutions is a Web design and Internet marketing company that offers custom web design, search engine optimization (SEO), mobile and email and social media marketing services. Located in Tucson, AZ, Anchor Wave employs 15 of the best expert designers, programmers, and marketing strategists to provide innovative, results-oriented, step-by-step approaches to Internet solutions. To date, Anchor Wave has launched more than 740 websites for businesses and non-profit organizations in Southern Arizona and the US making it a leader in the industry. For more information visit http://www.anchorwave.com
Reproductions, Inc.
For more than 50 years, Reproductions, Inc., has been Tucson's local printing solution, specializing in bringing quality professional printing services to local Architectural, Engineering and Construction and Print Media industries as well as providing first-rate color printing services for all businesses. From large projects to small, Reproductions, Inc. is equipped to meet all of your printing needs. For more information visit http://www.reproductionsinc.com