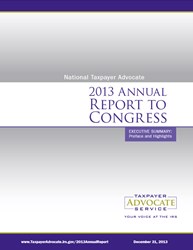 Washington, D.C. (PRWEB) January 10, 2014
National Taxpayer Advocate Nina E. Olson today released her 2013 Annual Report to Congress, identifying the need for Congress to adopt a Taxpayer Bill of Rights (TBOR) as the overriding priority. The Advocate also expressed deep concern that the IRS is not adequately funded to serve taxpayers, pointing out that the IRS annually receives more than 100 million telephone calls from taxpayers and that, in fiscal year 2013, the IRS could only answer 61 percent of calls from taxpayers seeking to speak with an IRS customer service representative.
Taxpayer Bill of Rights Recommended
The National Taxpayer Advocate's Annual Report to Congress designates the need for Congress to adopt a Taxpayer Bill of Rights as the primary most serious problem facing taxpayers. The Internal Revenue Code provides dozens of real, substantive taxpayer rights, but these rights are scattered throughout the Code and are not presented in a coherent way. Consequently, most taxpayers have no idea what their rights are and therefore often cannot take advantage of them.
"Taxpayer rights are central to voluntary compliance," the report says. "If taxpayers believe they are treated, or can be treated, in an arbitrary and capricious manner, they will mistrust the tax system and be less likely to comply with the laws voluntarily. If taxpayers have confidence in the fairness and integrity of the system, they will be more likely to comply."
The report emphasizes that the U.S. tax system is built on voluntary compliance. Ninety-eight percent of all tax revenue the IRS collects is paid timely and voluntarily. Only 2 percent results from IRS enforcement actions. For the taxpayer, voluntary compliance means not having to face IRS enforcement. For the government, voluntary compliance is cheapest, because enforced compliance requires the IRS to devote resources to detecting and collecting amounts that are not voluntarily reported or paid.
While arguing that knowledge of taxpayer rights promotes voluntary compliance, the report cites a survey of U.S. taxpayers conducted for TAS in 2012 that found less than half of respondents believed they have rights before the IRS and only 11 percent said they knew what those rights are.
IRS Funding Inadequate
The report also identifies the lack of adequate IRS funding as a top problem for taxpayers. Each year, more than 100 million taxpayers call the IRS for help and millions more visit IRS walk-in sites or send correspondence. Key metrics show the agency is increasingly unable to keep up with taxpayers' demand for help in complying with their tax obligations. Last year, the IRS could only answer 61 percent of calls from taxpayers seeking to speak with a customer service representative. Taxpayers who did get through had to wait on hold more than 17 minutes. The IRS also recently announced it will only answer "basic" tax law questions on its telephone lines and in its walk-in sites during the upcoming filing season and it will not answer any tax law questions after the filing season, including questions from the millions of taxpayers who obtain filing extensions and prepare their returns later in the year.
Olson made clear that the deficiencies in taxpayer service are attributable primarily to a lack of resources. Regardless of cause, she wrote, "it is a sad state of affairs when the government writes tax laws as complex as ours – and then is unable to answer any questions beyond 'basic' ones from baffled citizens who are doing their best to comply."
The Advocate expressed particular concern about the magnitude and impact of cuts to the IRS training budget. Since FY 2010, the IRS training budget has been cut from $172 million to $22 million. "If IRS customer service representatives are not well trained, taxpayers calling for help are more likely to receive incorrect information or no information," the report says. "If IRS enforcement employees are not well trained, auditors may make inappropriate adjustments and assessments, and collection employees may issue inappropriate levies or file inappropriate liens."
An infographic on IRS budget cuts is available on the 2013 Annual Report to Congress website.
Digital Currency Issue
Olson also identifies the need for the IRS to issue guidance to assist users of digital currency. The use of digital currencies, such as bitcoin, is growing. In the four months between July and December 2013, bitcoin usage has increased by over 75 percent – from about 1,700 transactions per hour to over 3,000. Over the same period, the market value of bitcoins in circulation increased more than ten-fold from about $1.1 billion to $12.6 billion. Over 10,000 businesses reportedly accept payment in bitcoins.
The IRS has not issued specific guidance addressing the tax treatment or reporting requirements applicable to digital currency transactions. People who are trying to comply with their federal income tax reporting obligations have complained that they are unsure about the rules.
The Report
Overall this year's report identifies the 25 most serious problems affecting taxpayers, including those outlined above and:

Reductions in IRS Employee Training
Insufficient Education on Taxpayer Rights
Tax-Related Identity Theft Victim Assistance
Absence of Return Preparer Regulation
Offshore Voluntary Disclosure Penalties
Burdensome Foreign Account Reporting Requirements
The report also makes dozens of recommendations for administrative changes, five recommendations for legislative changes, and analyzes the 10 tax issues most frequently litigated in federal court.
Visit http://www.taxpayeradvocate.irs.gov/2013AnnualReport for more information about the report, including Olson's recommendations for how to resolve the most serious problems facing taxpayers and downloadable infographics on the most serious problems.
The National Taxpayer Advocate is required by statute to submit two annual reports to the House Committee on Ways and Means and the Senate Committee on Finance. The statute requires these reports to be submitted directly to the Committees without any prior review or comment from the Commissioner of Internal Revenue, the Secretary of the Treasury, the IRS Oversight Board, any other officer or employee of the Department of the Treasury, or the Office of Management and Budget. The first report is submitted mid-year and must identify the objectives of the Office of the Taxpayer Advocate for the fiscal year beginning in that calendar year. The second report, due on December 31 of each year, must identify at least 20 of the most serious problems encountered by taxpayers, discuss the 10 tax issues most frequently litigated in the courts, and make administrative and legislative recommendations to resolve taxpayer problems.
About the Taxpayer Advocate Service
The Taxpayer Advocate Service (TAS) is an independent organization within the IRS and is your voice at the IRS. We help taxpayers whose problems with the IRS are causing financial difficulties, who've tried to resolve their problems through normal IRS channels but have gotten nowhere, and those who believe an IRS system or procedure just isn't working as it should.
If you believe you are eligible for TAS assistance, you can reach TAS by calling 1-877–777–4778 (toll-free).
###