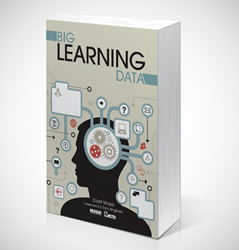 I believe we owe Elliott and his team a debt of gratitude for bringing this book to us at this critical time.
Alexandria, VA (PRWEB) November 21, 2013
ASTD is pleased to announce the release of one of the most important and provocative books of the year, "Big Learning Data," by Elliott Masie. The book features chapters written by members of Masie's Learning CONSORTIUM and provides a comprehensive analysis of the opportunities and challenges that using big data hold for the training and development profession.
"I believe we owe Elliott and his team a debt of gratitude for bringing this book to us at this critical time," says Tony Bingham, ASTD President and CEO. "'Big Learning Data' calls attention to the next transformative opportunity for our field."
The book takes an in-depth look at how using big data can impact the learning profession. It is a must-read for L&D professionals that includes analysis, case studies, precautions, and pragmatic advice. In today's wired world where people interact with millions of pieces of information, it is imperative that businesses understand how they can capture information, make sense of it, and use it to achieve their strategic goals.
Readers of "Big Learning Data" will:

Find out where to start with understanding big data and its implications for workforce development.
Think differently about the data they have.
Understand the risks that come with big data.
Solve problems using the new perspectives and measurement support big learning data provide.
In his endorsement leadership expert Ken Blanchard, co-author of "The One Minute Manager" and "TrustWorks!" says, "As we enter a world with more and more data collected and shared, a culture of trust is critical. Elliott Masie is passionate about the advantages, risks, and challenges as we leverage and cope with big data!"
To learn more about "Big Learning Data," visit the ASTD Press book page: http://www.astd.org/Publications/Books/Big-Learning-Data.
About ASTD
ASTD (American Society for Training & Development) is the world's largest professional association dedicated to the training and development field. In more than 100 countries, ASTD's members work in organizations of all sizes, in the private and public sectors, as independent consultants, and as suppliers. Members connect locally in more than 120 U.S. chapters and with 15 international partners. ASTD started in 1943 and in recent years has widened the profession's focus to align learning and performance to organizational results, and is a sought-after voice on critical public policy issues. For more information, visit http://www.astd.org.
###