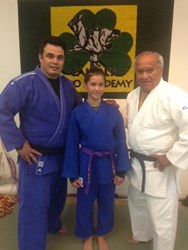 Twenty years from now you will be more disappointed by the things that you didn't do than by the ones you did do, so throw off the bowlines, sail away from safe harbor, catch the trade winds in your sails. Explore, Dream, Discover. –Mark Twain
San Francisco, CA (PRWEB) October 29, 2013
International travel, competition and determination are no stranger to this San Francisco teen, Judo athlete and supporter of the Blind Judo Foundation. Allie, as she is known by her peers is one of two young Judo stars to represent the US at the 2014 Youth Olympic Games in Nanjing, China.
The second Youth Olympic Games is sanctioned by the International Olympic Committee (IOC) and is an international multi-sport event which was first held in 2010 in Singapore where two other Americans won Gold Medals.
Allie started Judo in 2009 and moved to Cahill's Judo Academy in 2011 at the young age of 12 to train under the legendary Coach Willy Cahill. She says, "Judo provides me with a sound foundation about life; respect of others and myself, people around me as well as navigating situations both good and bad." Time permitting, Allie also helps train blind and visually impaired Judo students at Cahill's.
Allie feels her instructors Sensei Brad Burgo, Billy Worthington, Allen Kipper and others along with Coach Willy have given her a solid foundation from which to grow. Each instructor has their unique and favorite techniques making her a combination of the best-of-the-best. "I especially like how Sensei Brad Burgo shows me how to set up my opponent even before I step onto the mat"....says Allie.
2013 has been a phenomenal year for this young athlete who is one of three siblings. This year alone she won the USA Youth Scholastics in March; went on to fight in Argentina at the Pan American Junior Championships and then in Miami, FL at the Cadet World Championships. As this press release is being written, Allie is competing and representing the USA in the Junior World Judo Championships in Ljubljana, Slovenia. She is one of 20 American Judokas represented at the World Championships and ranked 7th in her weight category.
Her success in the Judo world has not gone unnoticed. USA Judo, the official organization that brings the sport of Judo to the Olympics and the Paralympics nominated her and Adonis Diaz of Miami to represent the US in the World Youth Olympics in August of 2014 in Nanjing, China.
Dedication is a word all too familiar to Allie. Besides being a sophomore at Drew Preparatory High School of San Francisco, Allie runs three times a week on the hills of San Francisco; completes her home work on time and trains at Cahill's Judo Academy. As a young teenager, Allie has given up the typical teenager fun life. Her commitment to Judo is front and center with her eye to the future.
Allie is the middle child with her older sister also attending the Preparatory High School which makes life a little easier allowing them time together. Her favorite subject is history. Fortunately the Headmaster at Drew is very supportive of her outside activity. Therefore Allie is able to have private time with all her teaches in order to accommodate her various travels schedules.
Allis is not all Judo. Being a Judoka (Judo athlete) is high on her activities but there are other sports that round out her recreational activities: softball and pitcher for the Drew Preparatory School while also enjoying soccer. There is no stopping this up and coming champion.
The Blind Judo Foundation is a nonprofit 501(c) (3) organization whose mission is to empower the blind and visually impaired using the tools and tenets of Judo. These include but not limited to confidence building, character development, how-to make commitments and follow through, humility, respect and responsibility. All members of the Foundation are volunteers. Funding of blind and visually impaired athletes to train, travel locally, nationally and internationally are through tax exempt donations, the financial life-line. Donations can be made at http://www.blindjudofoundation.org/donate.php which are tax exempt. To learn more about the Foundation check out blindjudofoundation.org and at http://www.facebook.com/BlindJudoFoundation or contact Ron C. Peck at roncpeck(at)blindjudofoundation(dot)org or 425-444-8256