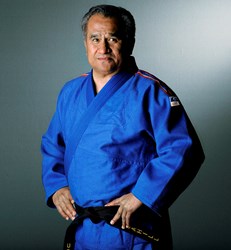 "Bullying is killing our kids. Being different is killing our kids and the kids who are bullying are dying inside. We have to save our kids whether they are bullied or they are bullying. They are all in pain." - Cat Cora
(PRWEB) October 16, 2013
It is time when communities, organizations and individuals unite nationwide to raise awareness of bullying prevention through events such as the sport of Judo taught by Coach Willy Cahill, Co-Founder of the Blind Judo Foundation and owner of Cahill's Judo Academy in San Bruno, CA.
PACER Center a champion for children with disabilities organization, created the campaign against bullying in 2006 which was initially a one week event evolving into a month-long effort that encourages everyone to take an active role in the bullying prevention movement. The Blind Judo Foundation and Coach Cahill have been taking bullying prevention seriously for a long time.
Cahill's Judo Academy enrolls students of all ages who have experienced bullying and not sure how to regain their confidence. As Coach Cahill will say "learning Judo is not about doing harm to someone else, but to build confidence, character, commitment, humility, respect and responsibility" thereby learning how to stand-up to bullying.
It's been said that one cannot be intimidated or bullied unless they themselves allow it. Well that is easy to say but how does one build that confidence and enhance one's human core or character?
In the case of the blind and visually impaired, one method is training in a sport called Judo. It does not imply that one employ Judo techniques against the perpetrator but knowing how-to manage situations of bullying with the skills learned through the sport of Judo.
It is important for those who are being bullied to report it to teachers or councilors if it is on school grounds; or HR departments if in the corporate world; or to parents and loved one. We all need to be acutely aware of raising awareness of bullying and not sweep it under the rug.
Survey Finds Disability Abuse Widespread by Shaun Heasley of disabilityscoop who reports that 7 in 10 with disabilities say they have been abused according to a national survey and in many cases the problem occurs repeatedly. The findings can be seen in a report by Nora J. Baladerian, Ph.D., Thomas F. Coleman and Jim Stream entitled A Report on the 2012 Survey on Abuse of People with Disabilities.
The pervasiveness of our incompetence is disturbing when it comes to preventing bullying and it's getting worse. Some disabilities types have higher incidence of abuse than others. For example, 74.8% of people with mental health conditions reported they had been victims of abuse, and 5.2% of those with a mobility disability reported having experienced such abuse.
Findings also reported types of victims with disability include 7.2% of the blind and 10.3% that are deaf. It was also reported that people who were victims cited futility, fear and lack of information as reasons for not reporting their abuse.
You can make a difference by learning more about bullying prevention and speaking up! The archived podcast of Cahill's guest appearance can be heard in its entirety at Blind Matters Radio Show.
The Blind Judo Foundation is a nonprofit 501(c) (3) organization that introduces and trains blind and visually impaired children, young adults and our returning blind and visually impaired military men and women in the sport of Judo. Supporting our athletes relies upon donations as all members of the Blind Judo Foundation are volunteers. A select few of the elite athletes go on to represent the US as members of the US Paralympic (not to be confused with Special Olympics) Judo Team. More about the Foundation can be seen at http://www.blindjudofoundation.org and on Facebook at http://www.facebook.com/BlindJudoFoundation or by contacting Ron C. Peck at roncpeck(at)blindjudofoundation(dot)org and 425-444-8256.