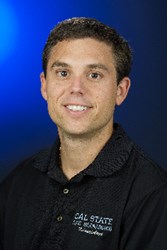 If your actions inspire others to dream more, learn more, do more and become more, you are a leader....John Quincy Adams
San Francisco, CA (PRWEB) October 22, 2013
Howard Brodwin, Principal of Sports and Social Change is an associate, contributor, supporter and friend of the Blind Judo Foundation who initially contacted the DisAbility Sports Festival management seeing that Judo was not one of the 25 sports being offered at the 2013 Festival.
Brodwin was able to connect Dr. Moffett, Associate Professor of Kinesiology and creator of the Festival with Coach Willy Cahill and Ron C. Peck, Co-Founders of the Blind Judo Foundation who without hesitation committed to support the Festivals program by adding Judo in the Festivals history to the venue.
The DisAbility Sports Festival this year will include an Assistive Technology Fair and is free to all who would like to attend and participate in this 7th Annual Festival. Last year the Festival had over 900 participants ranging in age from 8 months to 84 year olds. The 2013 Festival is anticipating over 1000 participants including 100 veterans.
The Blind Judo Foundation reached out to a southern California friend of Coach Cahill and the Blind Judo Foundation by the name of Sensei Walt Dean. Dean has a long history in Judo and was the Assistant US Paralympic Judo Coach at the 2000 Paralympic Games in Sydney, Australia supporting Head Coach Willy Cahill.
Sensei Dean graciously accepted the opportunity to represent the Blind Judo Foundation introducing Judo along with some of his own blind and visually impaired Judo athletes at the DisAbility Sports Festival.
Besides being free for all attendees and participants, the Festival will provides a complimentary T-shirts to all who pre-registered for the event.
The Festival was originally scheduled for Saturday, October 5, 2013 but due to unexpected weather conditions as some of the sports events are outside; the Festival was cancelled and rescheduled for Sunday, October 20, 2013. To learn more visit the DisAbility Sports Festival website and a short Power Point presentation.
It is interesting to note that the US Department of Education Office of Civil Rights has issued a guidance to all schools stating that section 504 of the Rehabilitation Act requires schools to make accommodations for students who try out for a sport and provided several examples on how to include students with disabilities in sport.
The Blind Judo Foundation is a nonprofit 501(c)(3) organization that introduces and trains blind and visually impaired children, young adults and our returning blind and visually impaired military men and women in the sport of Judo. Supporting our athletes relies upon donations as all members of the Blind Judo Foundation are volunteers. A select few of our elite athletes represent the USA as members of the US Paralympic (not to be confused with Special Olympic) Judo Team. More about the Foundation can be seen at http://www.blindjudofoundation.org and on Facebook at http://www.facebook.com/BlindJudoFoundation or by contacting Ron C. Peck at roncpeck(at)blindjudofoundation(dot)org and 425-444-8256