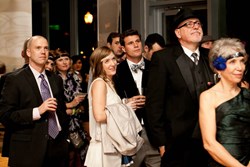 The more we raise, the more kids we can help.
Portland, Oregon (PRWEB) November 22, 2013
The 2013 Bootleggers Ball, benefiting Trillium Family Services' Family of Friends and Chrysalis programs welcomed over 200 guests for a 1920's themed event. The benefit was held on November 9th at Quartet Restaurant in Downtown Portland.
Throughout the evening guests mingled, listened to the music of Dance Hall Days and enjoyed the choreography of the Charleens Cabaret Dance Troupe. Emcee, Drew Carney, from KGW News, helped keep the crowd energized and led a rousing paddle raise.
"The more we raise, the more kids we can help," said Kris Forzley, Program Director for Family of Friends. With those motivating words, guests raised their paddles in response. By the end of the evening, over $103,000 was raised between individual donations and a matching $30,000 gift from several generous community donors. All of the funds raised will go toward the Family of Friends and Chrysalis programs, which Trillium provides.
Family of Friends is a mentoring program which matches kids ages 6-9 with adults and families from their communities. Chrysalis is a high school support group for teens affected by major trauma. Both community programs help children gain the skills they need to succeed while providing positive social supports.
The 2013 Bootleggers Ball was hosted by Step 5 Productions, a nonprofit organization founded by five young adults. Step 5 focuses on helping local charities and encouraging our community's youth to engage in philanthropic events. This year's ball was sponsored by The Campbell Group, a timberland investment advisory firm.
Trillium Family Services is Oregon's leader in providing mental and behavioral healthcare to children and families.