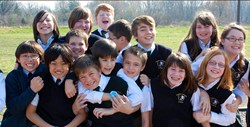 I love the CLA community where my teachers became my mentors and my classmates became my brothers and sisters. - Kenzi (2013 graduate, Hillsdale College bound)
Bloomfield Hills, Michigan (PRWEB) August 12, 2013
August 22nd will be a monumental day for Christian Leadership Academy, who just announced that they're moving to a new location with an expanded facility in Bloomfield Hills, Michigan.
Perfect Timing. Right on Target.
Christian Leadership Academy is celebrating the move to its new location with an Open House, Thursday, August 22nd beginning at 7:00 p.m. The Open House features an informative program about classical Christian education and CLA, followed by a tour of the new facility, located at 3600 Telegraph Road, Bloomfield Hills, Michigan, and an opportunity to meet the faculty and staff.
Christian Leadership Academy (CLA), a K-12 interdenominational classical Christian school currently located in Troy, Michigan, has announced its move to a new location, 3600 Telegraph Road, Bloomfield Hills, Michigan. CLA was founded in 1994 to offer a "back to the basics" approach of educating children that builds a solid foundation on which future learning readily flourishes.
Discovering Truth.
Classical Christian education targets the developmental level of the student by teaching basics in the beginning years, logic in the middle years and rhetoric in the high school years. Students are taught all subjects from a Biblical worldview allowing them to integrate their faith with their studies and producing leaders with strong character, discernment and a desire to serve the community – both local and worldwide. Christian Leadership Academy is a classical and Christian school dedicated to teaching students to know, reason, discern, and apply truth using Scripture and the classical liberal arts, thereby assisting parents to fulfill their God-given responsibility of child training.
High Academic Standards.
Students at CLA have achieved substantially higher ACT and SAT scores than students in other schools. They also attend the colleges of their choice, many with considerable scholarships. More importantly, they enter the world with a thorough biblical worldview, understanding the sovereign work of God in all things.
The Christian Leadership Academy Difference.
CLA is the only fully accredited classical Christian school in the state of Michigan recognized by the Association of Classical Christian Schools (ACCS).
Students and parents echo enthusiastic praises for CLA. "I love the CLA community where my teachers became my mentors and my classmates became my brothers and sisters"- Kenzi (2013 graduate, Hillsdale College bound) "As we begin our eleventh year as CLA parents, we are convinced that there is no better place for our three children to be educated. We are observing the reality that the classical Christian method is teaching our children to think vs. merely gather facts and information. We count it a privilege to have CLA come alongside us to prepare and equip our children for life." -CLA parent.
Our Mission. Our Vision.
The mission of Christian Leadership Academy is to teach children Biblical truths and classical academics from a Christian worldview so they may serve as bold and obedient ambassadors for Jesus Christ. CLA has an average enrollment of 150 students. With the new building and expanded facility, CLA's vision will provide a superior learning environment for many years.
CLA invites interested parents to its Open House, Thursday, August 22nd at 7:00 p.m. The Open House is located at their new building, 3600 Telegraph Road, Bloomfield Hills, Michigan. For more information, please call 248-457-1510 or visit CLA's website, http://www.cla-edu.org . Christian Leadership Academy admits students of any race, color, and national or ethnic origin.