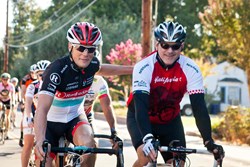 "As an exercise enthusiast, bringing cyclists and every day outdoor enthusiasts together with world class talent like Chris Horner, for important causes in the beautiful outdoors of Amador is a passion and a gift." - Kraig Clark
Ione, California (PRWEB) October 01, 2013
This event, in its fourth year, was founded by Northern California-born entrepreneur and community builder Kraig Clark, who set out to make a difference in his community by combining his passions for business, community wellness, cycling, and the wine country foothills of his youth. Clark owns Clark's Corner in Ione, CA., a staple destination community center, restaurant, banquet facility, and favorite weekend stop for cyclists in the region.
Clark's Corner is a part of an effort on Clark's behalf (and many other local businesses and business leaders) toward reviving the local community of Ione, CA and is an active part of helping to make Amador County and the city of Ione a destination experience.
EVENT DETAILS- 4th Annual Clark's Corner Cycling Challenge
● Friday, October 11th: $65 per person – Charity Dinner and Silent Auction 6 pm, Clark's Corner 12 W. Main Street, Ione, CA.
● Saturday, October 12th Ride Day 9 am – 3 pm: Start/Finish line is Clark's Corner, 12 W. Main Street, Ione, CA, entry fee: $55 (includes lunch for riders and gift bag). Rides: 10, 30 and 50-mile courses (to be displayed pre-race).
This event features 10, 30, and 50-mile courses – something for everyone! People from all over Northern California, riding or not, are invited on ride day and organizers encourage people (riders or not) to buy tickets to the dinner Friday, October 11th to help support the charities, and to enjoy one-on-one time with Horner, organizers, sponsors, and charity representatives.
Dinner will boast a silent auction, singer-songwriter entertainment, and an evening of great wine and food. Dinner starts at 6 pm in Ione, CA at Clark's Corner. Ride day, Saturday October 12th, kicks off at 9am with 10, 30, and 50-mile rides, featuring a stop for riders during the two longer courses to connect with Horner in the field.
Family, friends, and foothill lovers are invited and encouraged to attend the whole day of activities, from 9 am through the last rider at 3 pm to enjoy area wine tasting, and explore local businesses, as well as new, local art, or participate in a kids' bike parade, and sample the tastes of a local farmer's market (planned).
SOCIAL MEDIA
Organizers are encouraging riders to wear helmet cams, upload footage to Instagram and Facebook to help chronicle the experiences, and share the new knowledge they learn about the event's charitable organizations in their own networks following the weekend events.
MORE HISTORY
The Clark's Corner Cycling Challenge was first held in 2010 and sets the stage for what is becoming a staple, must-do experience among cyclists and foothill lovers all over Northern California.
Area residents and business leaders may recall Clark was a co-founder of CoreLogic, Inc., which Clark helped drive to a highly successful merger with First American RES in 2007, which later went public under the name CoreLogic. Clark founded Auqeo! in 2009, along with President Andrew Battistessa, where they are innovating businesses in the region through expert, proven sales, business growth strategy, and seasoned investment approaches yielding dividends for the companies they help grow and the local communities and charitable causes they and their team support.
This year they hope to bring more people to spectate and participate in events the day of the race, and significantly increase the awareness through traditional and social media about the important charitable causes associated with of the Challenge.
ABOUT THE CHARITIES
Riders and attendees help drive important awareness and do support through their registration fees and silent auction donations these important charities:
Interfaith Food Bank of Amador County: Food insecurity in rural communities
The Interfaith Food Bank was born through the combined efforts of a local patron, sixteen local churches, and a Community Development block grant from AT-CAA, all working together to form the Interfaith Council of Amador County in 1996. In 2012 the Interfaith Food Bank began serving as a focal distribution center with 13 satellite locations throughout Amador County, including a Spanish-speaking site in Plymouth. http://www.feedamador.org/site/pages/about.cgi
The Chevo Foundation: Parkinson's Disease Sufferers Helped by Tandem Cycling
The Chevo Foundation's mission is to raise resources for Parkinson's research, support and education. All of the proceeds will be used to help raise awareness and resources for Parkinson's research and education for those directly and indirectly affected by the disease, and awareness of those not yet diagnosed. Parkinson's Disease affects more than 6 million Americans.
http://www.chevofoundation.org
Of note, cycling – particularly tandem stationary cycling - is helping Parkinson's disease sufferers improve their motor functions by 30% or more. Exercise scientists at the Cleveland Clinic's Department of Biomedical Engineering have had remarkable, quantifiable success with people with Parkinson's disease who were paired with strong lead cyclists on stationary tandem bicycles.
http://www.nbcnews.com/video/nightly-news/26512703
World Bicycle Relief: 148,000 Bikes Distributed Worldwide
WBR is an organization with more than 148,000 bikes in the field worldwide, bikes donated to people in communities where without bicycles giving them enormous leaps in productivity and access to healthcare, education and economic opportunities, they would not be able to thrive.
For more information:
Press Contact: Drisha Leggitt, Possibility Media Group. 916-206-2553
Local Ione On-site Organizing Contact: Steve Clauson 916-685-7330