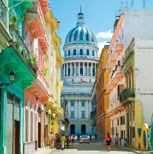 We're excited to offer the travel market something truly unique...a top-notch cruise experience and exploration of Cuba's remarkable sights, sounds, flavors, history, and culture.
Calgary, Canada (PRWEB) October 31, 2013
Newly-launched Cuba Cruise breaks new ground with their Cuba circumnavigation itineraries, making the island's fascinating but otherwise hard to reach ports more accessible and affordable than ever. Each cruise, aboard the Louis Cristal, includes visits to world famous cities and off-the-beaten path towns, UNESCO world heritage sites and national parks, as well as in-depth exploration of Cuba's dynamic culture. The experience offers the best qualities of cruising and inclusive getaways combined with a Cuba that few American travelers have seen.
Cuba Cruise will dramatically increase the otherwise limited supply of Cuba travel options for American travelers in the years to come. The upcoming season will run sailings from December 16, 2013 to March 24, 2014.
"We're excited to offer the travel market something truly unique," said Cuba Cruise President Dugald Wells. "We provide the best of both worlds to our guests – a top-notch cruise experience and the type of in-the-know exploration of Cuba's remarkable sights, sounds, flavors and history that is usually reserved for locals only."
US not-for-profit travel organization Road Scholar joins Cuba Cruise to offer Americans this completely unique voyage. With Road Scholar, guests participate in a land and ship-based education exchange program, absorbing the energy of Havana, interacting with local Cubans and discovering the remote parts of the island that are difficult to access by land. Travelers with Road Scholar will experience 5-nights onboard the Louis Cristal ship. The company expects the special program to fill very quickly, so seize the moment and enroll today.
For more information about Road Scholar's Adventures Afloat: Cuba in Depth: A Grand Voyage Around the Island program, please visit roadscholar.org.
-- Cruise Line Veteran as CEO, and Award-Winning Partner Louis Cruises --
Cuba Cruise is in steady hands with President Dugald Wells at the helm, a 20-year veteran of the cruise industry. Having been honored in 2006 by Travel + Leisure Magazine as one of the Top 35 Innovators in travel today, Dugald is uniquely qualified to bring Cuba Cruise to the market. With ownership partner Louis Cruises, industry leaders with 25 years of experience in cruising and an award-winning history in tourism, Cuba Cruise is sure to see success in the years to come.
-- Your Cuba, Accessible & Authentic --
The line's launch diversifies traditional Cuban travel options to provide access to authentic Cuba, offering unique opportunities to experience an inspired culture and visit Cuba's fabled colonial cities, renowned UNESCO sites and remote wilderness nature reserves.
-- Louis Cristal --
Louis Cristal is a modern cruise ship with a sleek and unique yacht-like design and a cruising speed of 18 knots. It features an array of amenities with all the comforts expected of today's contemporary vessels, including spacious staterooms and suites (some with balconies, and each one equipped with shower, WC, wash basin, telephone, hairdryer & TV), elegant lounges and restaurants, casino and open promenades. The ship also features modern communication facilities including an internet corner, WiFi and roaming GSM mobile phone service.
-- Quality Cuisine Meets Cuban Entertainment --
Each cruise will feature the company's signatures of impeccable service and delicious meals served onboard. All dining aboard Cuba Cruise will feature quality imported Canadian produce, beef and other food products -- most notable in the a la carte Alberta Prime Steakhouse -- and specialty Cuban dishes.
Cruises will also feature a first-rate entertainment program of Cuban music and dance by local Cuban performers.
-- For U.S. Citizens --
Americans are required to make their Cuba Cruise reservation through licensed companies, such as Road Scholar who is authorized to travel to Cuba under OFAC License #CT-19201-3.
For details on Road Scholar's Cuba trips, visit roadscholar.org or call 1-800-454-5768.
For complete details on Cuba Cruise sailings, call 1-855-364-4999 or visit yourcubacruise.com.