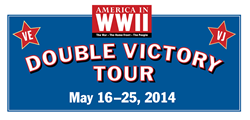 These museums tell the story of World War II like no place else in the world.
Harrisburg, Pennsylvania (PRWEB) December 09, 2013
The idea started in a hangar at a former US Army airfield in Reading, Pennsylvania, with 1940s warbirds roaring overhead. There, at the Mid-Atlantic Air Museum's 2013 World War II Weekend in Reading, Pennsylvania, AMERICA IN WWII magazine staff met staff from Specialty Tours. "We immediately realized we should do a tour together," says AMERICA IN WWII publisher Jim Kushlan. What emerged from that meeting was the concept of an affordable, stateside WWII tour focused on what Kushlan calls "the two best World War II museums in the world."
The resulting AMERICA IN WWII Double Victory Tour is currently recruiting travelers for a May 16–25, 2014 land trip to the National World War II Museum in New Orleans, Louisiana, and the National Museum of the Pacific War in Fredericksburg, Texas. The tour will feature extended visits to both museums, talks by WWII experts, encounters with WWII aircraft, a Pacific island combat simulation, plus visits to local attractions in New Orleans, College Station, Texas, and Fredericksburg.
Details of the trip, including the itinerary, are on the website of Specialty Tours, at spec-tours.com.
The trip's name—the Double Victory Tour—reflects its focus. World War II played out in two major theaters: the European–African–Middle Eastern theater and the Asiatic–Pacific theater. The 70th anniversaries of US–Allied victory in both theaters is coming in May (V-E Day, for Victory in Europe) and August (V-J Day, for Victory over Japan) of 2015. "Our tour is a sort of preparation for those great anniversaries," says Kushlan, who will act as host for the tour.
"We could have gone overseas," he says. "But there are so many people who have never visited these two museums right here in the States. And these museums tell and show the story of World War II like no place else in the world." The National Museum of the Pacific War, for instance, has what Kushlan calls "an astonishingly rich collection of Pearl Harbor artifacts," including a hatch from the USS Arizona and the Japanese mini-submarine that was captured during the attack on December 7, 1941.
"We're going to come home with a much fuller understanding of the scale and complexity of World War II," Kushlan says.
"Our thought was to make this like a rolling WWII conference," says Laura J. Passuello, co-owner of Specialty Tours and planner of the AMERICA IN WWII Double Victory Tour. "It's going to be complete immersion—not only inside these fabulous museums, but on the bus with World War II movies, at the hotels with speakers, and with special WWII heritage stops along the way."
This is the first trip AMERICA IN WWII has sponsored, and, says publisher Kushlan, price was a consideration. "We wanted to start with something affordable," he says. The Double Victory Tour is priced at $1,995; prices for overseas WWII tours begin upwards of $3,000.
"This is a great opportunity for us to get out there on the road and take in the amazing WWII heritage of our nation firsthand," Kushlan says. "Doing it with a bus full of people who share our love for history is going to make it all the better."
AMERICA IN WWII is a bimonthly magazine about the American experience in the Second World War—the war, the home front, and the people. It is available at Barnes & Noble and Books A Million stores, and select other bookstores.
Subscriptions to the print edition are available at 1-866-525-1945 (toll-free). Readers can also find digital editions for any device by searching for "america in wwii" on their mobile and handheld devices' app stores, or by visiting http://www.AmericaInWWII.com/subscriptions/ (print subscriptions can also be purchased there).
AMERICA IN WWII and AmericaInWWII.com are publications of 310 Publishing LLC of Harrisburg, Pennsylvania, a company committed to telling the stories of history in human terms.
Specialty Tours, based in Hershey, Pennsylvania, offers affordable and authentic tours for the WWII military enthusiast. Learn more at spec-tours.com, or by calling 1-866-563-0888.