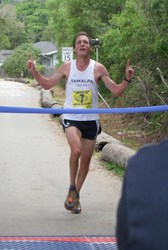 Indianapolis, IN (PRWEB) December 10, 2013
USA Track and Field (USATF) named ElliptiGO Athlete Brian Pilcher the 2013 Masters Athlete of the Year this weekend at the Jesse Owens Awards and Hall of Fame Induction Ceremony. A three-time Masters Runner of the Year for his age group, Pilcher exploded onto the Masters running scene in 2006 and quickly became a dominant force in masters running. 2013 proved to be his most successful year so far as he won four USATF age group championships and was the top age-graded male runner in the entire field at the USA Masters 5K Championships.
Pilcher first integrated the ElliptiGO into his running regimen in 2010 following a hip surgery to repair a torn labrum. This injury and surgical procedure prevented him from running for an entire year. By relying primarily on the ElliptiGO, Pilcher was able to maintain his fitness during his recovery. Only nine weeks after he was cleared to run again, he returned to the Masters podium and went on to capture back-to-back Runner of the Year honors for his age group. Pilcher holds numerous Masters records and continues to cross train on the ElliptiGO as he pursues his running goals.
About ElliptiGO
ElliptiGO, Inc. is the San Diego-based company that created the world's first outdoor elliptical bicycle specifically designed for runners. Combining the best of running, cycling and the elliptical trainer, the ElliptiGO® provides a comfortable, fun and effective way to exercise outdoors. It delivers a high-performance workout experience that closely mimics running outdoors while eliminating the impact. Elliptical cycling is an effective way to build cardiovascular fitness without aggravating injuries and is great for everyone from the weekend warrior to the elite athlete. The full line of ElliptiGOs can be purchased at retailers nationwide and through the company's website: http://www.elliptigo.com.