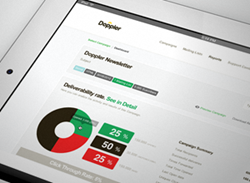 Making Sense was committed to provide marketers with a more effective, trustable, intuitive and effective Email Marketing application.
(PRWEB) September 04, 2013
As a software development company with a team of highly qualified professionals Making Sense continues assisting companies to provide the best services to their clients in today's competitive world.
Back in 2005, Making Sense wanted to provide Internet marketers with a full featured hosted Email Marketing application. The company then developed Doppler, a fun and easy to use application.
Because of improvements in UX technology, and the fast growth of the user-base, Doppler wanted to upgrade its technology to make it more user-friendly, enabling this application to scale without taking a performance hit. The Doppler team was committed to provide its users with a more effective, trustable, intuitive and effective experience.
On January 2013 and after several months of hard work and dedication, the Making Sense team finally launched the new version of the application. With the new release of Doppler, users can now optimize their campaign performance with fully-detailed statistical reports. The main objective behind the new release was for users to improve their campaigns open rate, increase the click through rate, and make their message go viral through social media integration.
The creation of the new Doppler was a challenging and enriching process for Making Sense. In the last couple of years, Making Sense's application Doppler has acquired new partners with offices in Mexico, Colombia, Dominican Republic, Venezuela, Ecuador and Spain. The application has grown to have over 50.000 users in 6 years. Doppler is also the organizer of the free and international event of Marketing Online known as EMMS aimed to help Email Marketing, Social Media and Digital Marketing experts achieve success.
Doppler helps users to achieve great customer loyalty and a strong brand positioning. The application has a fast, flexible, dynamic and easy-to-use platform. It allows users to create subscribers lists easily, send email campaigns based on needs and goals, measure the success of the campaigns and optimize campaigns based on results.
About Making Sense
Making Sense is an IT company specializing in the development and implementation of software and web applications for different companies since 2002. It has over 120 employees who work in different offices located in United States, Argentina and Mexico.
The company specializes in offering the latest software development strategies, and has several partners throughout the world. Some of its most prominent clients include Rackspace, DELL and AMD. One of Making Sense's most well-known products include Doppler™, the most widely used email marketing tool in Latin America, which allows users to create, send, analyze and optimize the user's email marketing campaigns very simply, fast and effective; and Lander™, a software tool that enables the creation of landing pages in minutes.
In recognition for its work in fostering ArgenTIna IT outsourcing to the US, Making Sense received in December 2012 a special mention at the Polo IT Buenos Aires event and was chosen as representative to the United States ArgenTIna IT office in Austin, Texas. Making Sense is fully committed to renewing its essence of offering high quality services and maintaining its unique spirit of passion and dedication that it brings to the pursuit of technical excellence.
Contact:
Making Sense LLC
Robert Matthews
Business Development
210-807-3552
rmatthews(at)makingsense(dot)com