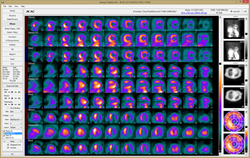 "We're proud Emory Toolbox 4.0 will be part of a very important health initiative throughout Latin America," -- Michael Lee, CEO, Syntermed
Atlanta, GA (PRWEB) September 09, 2013
Syntermed's Emory Toolbox software for nuclear cardiology imaging of the heart has been purchased by the International Atomic Energy Agency (IAEA) to be used in seven Latin American countries. As part of the IAEA's initiative to improve the management of patients with heart disease, a project was started to harmonize nuclear cardiology techniques to manage patients affected by congestive heart failure, with an emphasis on Chagas' cardiomyopathy.
Chagas disease, a parasitic infection transmitted by the triatomine bug, is considered a major health concern because of the high incidence of heart failure associated with the disease. It is estimated that in Latin America there are close to 16 –18 million infected people with Chagas disease, of which over 25 percent will develop chronic illnesses, mainly heart disease. Close to 45,000 annual deaths are attributable to Chagas disease in the region. Heart failure is an endemic health problem.
Licenses for Syntermed's Emory Toolbox software have been procured for nuclear medicine centers in Brazil, Ecuador, Bolivia, Chile, Cuba, Peru, and Colombia. "We're proud Emory Toolbox 4.0 will be part of a very important health initiative throughout Latin America. Our newest version of the Toolbox will be available as a decision support tool for nuclear cardiologists, giving them faster, more accurate nuclear cardiology reports for heart scans," said Michael Lee, CEO, Syntermed, Inc. "We look forward to sharing our technical knowledge with nuclear medicine labs throughout the region."
Among the causes of acquired dilated cardiomyopathy in Latin America, Chagas cardiomyopathy is one of the most common, with a prevalence of approximately 24 million of heart failure in areas where the disease is endemic. [Bocchi EA. Heart Failure in South America. Curr Cardiol Rev. 2013;9:147-56] Given the morbidity and mortality from heart failure, as well as the considerable resources that are used to diagnose and treat these patients, appropriate diagnosis and prognosis assessment are vital.
The International Atomic Energy Agency (IAEA) was created in 1957, best known for its activities involving nuclear power reactors and preventing proliferation of nuclear weapons. The IAEA is also focused on health improvements utilizing nuclear medicine for the diagnosis and treatment of cardiovascular diseases, cancer, and infection. Many nuclear techniques provide unprecedented sensitivity, speed, and specificity in the prevention and diagnosis of infection.
Emory Toolbox 4.0 is an Internet—WIFI-based system and acquires the data from the ECG-gated myocardial perfusion SPECT studies, automatically reconstructing the data, then analyzing and converting it to quantitative parameters or factors of abnormality. This data is then submitted to an imaging decision support system that is continuously updated with the latest scientific and clinical knowledge to reach an impression of the patient's heart status. The physician then sees the justification for the diagnosis and can make changes to the report. The entire process is designed to be faster, more efficient and user-friendly while providing a comprehensive report that is more easily accessible given today's technology.
Syntermed, Inc., an Atlanta-based imaging and informatics software company since 1999, will be showcasing their advanced cardiac imaging software products at the annual meeting of American Society of Nuclear Cardiology (ASNC), Booth 516, Sept. 27-29, Downtown Chicago, Hyatt Regency. A profile is available at nuclearcardiologymarketplace.
Overview: Syntermed serves nuclear cardiology and nuclear medicine labs providing quantification and decision support software that analyzes SPECT or PET images of the heart and brain. Emory Toolbox, now in its fourth generation, is one of the most widely applied methods of cardiac imaging. SyncTool is used for advanced phase analysis imaging studies of left ventricle dyssynchrony. NeuroQ is used for brain scan images using PET imaging. Syntermed Live, now in its sixth year of operation, provides physicians with 24/7-365 days a year remote access to studies and reports. The newest development is the combination of Emory Toolbox 4.0 and SmartReport, powered by Syntermed IDS, improving overall workflow management with cloud-accessible, WI-FI retrievable reports that are more robust and dynamic. These systems can be fully integrated with EMR at the hospital enterprise level. All of Syntermed's software is compatible with virtually any nuclear medicine workstation or PC/MAC that supports Microsoft® Windows® operating system.