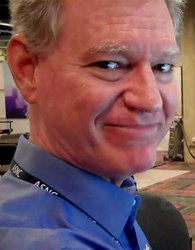 Emory Toolbox 4.0 now shows both the stress and rest SyncTool™ analysis on the same screen, but the biggest change is the automatic generation of an initial report, called SmartReport.
Atlanta, GA (PRWEB) October 22, 2013
At the recent American Society of Nuclear Cardiology annual meeting, Syntermed, Inc. demonstrated the recently FDA cleared Emory Toolbox™ 4.0 software and SmartReport™. "This is the first 510K accepted by FDA for (cardiac) image decision support," said Syntermed President Ken Van Train. "We've been working on this nuclear cardiology decision support project for three years, taking the Emory cardiac toolbox software and giving it a brain. Now it has the smarts to allow interpretation of SPECT and PET myocardial perfusion studies and puts that information into a natural language report to support time sensitive diagnosis of heart disease."
ASNC leadership launched this year's meeting with the theme: The time is right for new paradigms. "Syntermed has been on the forefront of this paradigm shift with new workflow efficiencies for the heart imaging lab," added Van Train, "We recognized the need in hospitals for seamless EMR integration of multimodality imaging studies. Given the reimbursement expectations and economies, structured reports need to be created faster, easier, and more accurately in natural language or terminology that supports EMR expectations and those of the soon-to-be implemented ASNC ImageGuide Registry."
"Along with integrative workflow, nuclear cardiologists and technologists will now see multiple images on the Emory Toolbox 4.0 screen, both non-attenuated -corrected data and stress-attenuated-corrected data or prone/supine data on the same page for the same patient on the same screen," adds Van Train. "All of this data is converted to.net allowing labs to have "cloud" access with a lot more functionality. The biggest improvement is Toolbox's ability to do automatic interpretation of the study. Physicians will get an initial interpretation based on over 250 heuristic rules. It's an aid, a tool to help the physician develop a faster and more accurate final interpretation."
The entire Syntermed system is designed to expedite the report from the first contact with the patient. The indication, risk factors and protocol are entered upfront, then the EKG technician adds their data and the technologist enters the nuclear cardiology dosing, so after completion of the nuclear cardiology SPECT study, the nuclear cardiologist gets an initial report where a large percentage of the report is already in natural language complete with polar maps for his or her final expert reading. SmartReport findings can be easily edited to the physician's specifications, finalized and sent to the hospital's EMR and remotely accessed through the Syntermed cloud.
David Cooke, Director, Clinical Applications, Syntermed, Inc., was interviewed at ASNC about Emory Toolbox 4.0 and SmartReport (video interview on YouTube . The Syntermed system, "takes advantage of wide screen monitors filled with slices, showing the rotating planar projections, polar maps, and automatic 17-segment defect scores built on heuristic rules. The image decision support system better reflects how the nuclear cardiologists will read the study. A new diastolic function is identification of the peak filling rate and time-to-peak filling rate. Toolbox 4.0 now shows both the stress and rest SyncTool™ analysis on the same screen, but the biggest change is the automatic generation of an initial report, called SmartReport," added Cooke.
At the ASNC meeting, results from an Emory University 1000-patient validated clinical study were presented by Ernest Garcia, PhD, principal investigator, "Diagnostic performance of a smart cardiac reporting system for myocardial perfusion SPECT imaging" [ASNC abstract 203-01]. "Emory researchers did a direct comparison of automatically generated SPECT imaging decision support reports using Emory Toolbox 4.0 and SmartReport versus the expertise of nuclear cardiologists who generated reports on the same data," said Dr. Garcia. "This system is powered by LVX and uses a proprietary non-parametric approach analyzing 17 segments of heart function at rest and stress, perfusion and thickening. The software generates a probability score that is hypoperfused to a certainty factor, using a set of LVX heuristic rules, reaching a justification for the patient's myocardium's perfusion and functional status. The outcomes from the 1000-patient study showed Emory Toolbox 4.0 and SmartReport has a sensitivity, specificity and accuracy that is comparable to that of the nuclear cardiology expert." [Disclosure: Dr. Garcia and Emory University receive royalties from Syntermed for the licensed technologies. Additionally, they own equity in Syntermed. The terms of the arrangement have been reviewed and approved by Emory University in accordance with its conflict of interest policies.]
About Syntermed, Inc: Based in Atlanta, GA, Syntermed has two categories of nuclear medicine imaging software for heart and brain (SPECT and PET) studies: brand names Emory Toolbox and NeuroQ(TM) respectively. This software is compatible with virtually any nuclear medicine workstation or PC/MAC that supports Microsoft® Windows® operating system. Syntermed Live enables physicians to access images and reports using computer access from a secure server at time of the day.