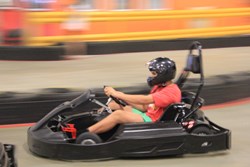 Wheeling, IL (PRWEB) August 20, 2013
Adi Mor, the founder and CEO of Party Fantasy, who is also the CEO and founder of Garden Fresh Market, has always been a family man. As a father to eight children, he knows the importance of having a place to go that offers fun for the entire family. Party Fantasy Raceway will offer this fun from toddlers to teens, and will still afford comfort for the parents at an affordable price.
In 2011, Adi successfully opened his first Party Fantasy in Mundelein, IL. He found that there is a demand for family entertainment centers and began scouting other properties in the area to expand. Adi decided to move his Garden Fresh Market corporate office in Wheeling, IL to Mundelein and open Party Fantasy Raceway in the former corporate location.
Adi created the supreme entertainment facility for children to have safe, wholesome fun. The facility includes inflatable bouncers and mazes, an arcade with redeemable prizes, a climbing wall, a full stage and dance floor, party rooms, free Wi-Fi, a parents' lounge and a toddler area with age appropriate toys. But the real draw at Party Fantasy Raceway is a state of the art indoor electric powered go kart track. A recreational area, decorated with brilliantly colored walls, creates the ultimate fantasy for any child's birthday celebration, sports party, school field trip or a thrilling day off with friends!
Adi, and the rest of the Party Fantasy team hopes that the community of Wheeling and the surrounding areas take pleasure in this family-oriented venue that he has put his time and heart into over the past couple of years.