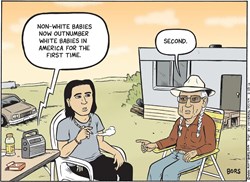 Editorial cartooning requires a unique set of skills. Bors' winning entry demonstrates how a single image can skewer assumptions with very few words.
Chicago, IL (PRWEB) October 07, 2013
Matt Bors has won the 2013 John Fischetti Editorial Cartoon competition, hosted annually by Columbia College Chicago.
Bors' winning image portrays two men sitting outside a trailer listening to a radio account reporting that for the first time in the United States, children of color will be the majority. "Second," says the Native American man.
"I often work in multiple panels, but sometimes all you need is one," said Bors who recalled seeing and hearing panicked reports on the birth of non-white babies outpacing white ones. "No one in the media noted the fact that white people have only been a majority in North America for a relatively short time. Within a day it had become one of the most popular cartoons I'd ever done."
Bors is a nationally syndicated editorial cartoonist and editor. His cartoons appear regularly in The Sacramento Bee, Portland Mercury, Pittsburgh City Paper, and on Daily Kos and are distributed by Universal Uclick.
"This image simply and starkly references U.S. history and its many controversies, from the decimation of native tribes to debates about civil rights, affirmative action and whether Barack Obama is black or even born here," said Nancy Day, chair of the Journalism department at Columbia College. "Editorial cartooning requires a unique set of skills. Bors' winning entry demonstrates how a single image can skewer assumptions with very few words."
This national competition honors Pulitzer Prize-winning editorial cartoonist John Fischetti, whose work was published in the New York Herald Tribune, the Chicago Sun-Times and the Chicago Daily News. Following his death in 1980, his friends, family and colleagues established the political cartooning award and a scholarship fund in his memory in the Journalism Department of Columbia College.
Each year, the competition honors a single image, published in the the previous calendar year, that meets the highest standards of editorial cartooning and captures the zeitgeist of a particular period of American history.
The judges awarded honorable mentions to Steve Breen of the San Diego Union Tribune and Nick Anderson of the Houston Chronicle, both former Fischetti winners and winners of the Pulitzer Prize for Editorial Cartooning. Bors was a 2012 Pulitzer finalist.
Bors, like many of today's political cartoonists, draws for multiple platforms. He cartoons full time for Medium.com, where he edits the comics section, The Nib, and regularly draws for nsfwcorp magazine. Bors also delves into comics journalism. In 2012, he traveled to Afghanistan to draw comics and served as the comics journalism editor for Cartoon Movement from 2010-2012, where he edited a project on reconstruction efforts in Haiti.
In 2012, Bors was the recipient of the Herblock Prize, the Society of Professional Journalists' Sigma Delta Chi Award for his editorial cartooning. His first graphic novel, War Is Boring, a collaboration with journalist David Axe, was published in 2010 by New American Library. He is a graduate of the Art Institute of Pittsburgh and lives in Portland, Oregon.
Columbia College Chicago is an urban institution that offers innovative degree programs in the visual, performing, media and communication arts for more than 10,000 students in 120 undergraduate and graduate programs. An arts and media college committed to a rigorous liberal arts curriculum, Columbia is dedicated to opportunity and excellence in higher education. For further information, visit http://www.colum.edu.
# # #
Media contacts:
Steve Kauffman, skauffman(at)colum(dot)edu, 312.369.7383
Cara Birch, cbirch(at)colum(dot)edu, 312.369.8695