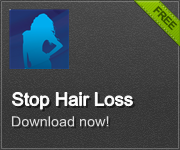 Every Strand Matters.
Chicago, IL (PRWEB) August 06, 2013
Hair restoration in the digital age has never been so easy with Hair Trauma Center's new "Stop Hair Loss" smartphone app. 56 million Americans suffer from hair loss, according to the International Society of Hair Restoration Surgery. Hair loss can happen for a number of reasons including, daily abuse, stress, personal health and family history. Hair Trauma Center's new smartphone app is getting to the root of hair issues by providing a complete guide to fabulous, healthy hair.
"Many people are embarrassed by their hair loss and that prevents them from seeking outside help. These people deserve to be comfortable with their appearance, that's why the Stop Hair Loss app was created. It's a simple and free way for the public to receive news and advice without ever having to speak or meet anyone," says Jacqueline Tarrant, founder of Hair Trauma Center.
The Stop Hair Loss app provides a better user experience where hair loss sufferers can now access important hair loss tips and professional advice at their fingertips in the privacy of their own home. Features present on the app include re-grow hair advice, preventative hair loss tips, how to keep your hair healthy, the best foods for rapid hair growth, and how to recognize key signs of hair damage.
The app is based on Jacqueline's highly acclaimed book, "Healthy Hair Rehab Now! 3 Steps to Fabulous Healthy Hair." Recipient of Amazon's Best Books of the Month award, "Healthy Hair Rehab Now!" is a reference guide to preventative measure education, hair care, nutrition to nurture the hair, and early detection of possible health issues revealed in the hair's reaction to physical imbalance. Without the possibility of being able to consult with every person going through a hair dilemma, both "healthy Hair Rehab Now!" and "Stop Hair Loss" start the conversation and initiate discussions about hair concerns that go beyond split ends.
The app is constantly updated with new hair loss prevention information to educate the public with easy to understand information and simple explanations. The app also provides direct access to Jacqueline as their personal "hair-ologist" through messaging and phone consultations.
Download the hair restoration app today.
About Hair Trauma Center
The Hair Trauma Center began in an effort to help people suffering from hair loss. With over 20 years of experience, Hair Trauma Center's thinning hair solutions and professional hair restoration services work to regrow and strengthen hair so people can be comfortable with their appearance. Their cutting-edge technology in treatment regime is approved by the FDA, meaning they provide the best hair nutrition care available today to get hair back on track to optimal health. A specialized "hair-ologist" provides a consultation to evaluate the condition of hair. Depending on the analysis, the specialists at Hair Trauma Center will map out a specialized treatment plan for a healthier head of hair and a healthier you.