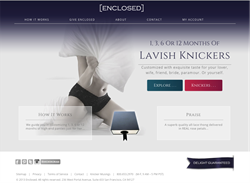 Everyone fears giving the wrong gift. We address that fear head-on, by delivering a gift that makes her feel like the beautiful, loved woman she is. - Enclosed Founder Antonia Townsend
San Francisco, CA (PRWEB) November 20, 2013
Move over flowers and jewelry suppliers, and make room for new San Francisco start-up Enclosed, an online shopping and gift site that's reinventing how to make women feel special. Launching out of beta today, just in time for last-minute holiday shoppers, Enclosed offers one or more months of ultra high-quality, elegant panties, also known as knickers — arriving on a bed of real flower petals, in a keepsake box.
One month is $50 and a one-year subscription is $500.
With Enclosed, shoppers can send one, three, six or twelve months of ultra-high-end panties to their wife, friend, girlfriend, or even themselves.
QUALITY TRUMPS QUANTITY
Unlike the intimate apparel found in most US department stores or even big-city boutiques, every month of Enclosed includes a new pair of knickers sourced from high-end designers hailing from Europe, as well as from the most innovative new studios in South and North America.
The knickers are made of the finest materials – lace from Calais, France and silk from China. These are not your everyday undies. Rather, they are date night knickers, designed to flatter, inspire and indulge.
ONE KNICKER ONE LOVE
Today's online gift marketplace sees a growing number of companies that pull together a smattering of lower quality theme-based goods for delivery in a box. Focusing on a single product of substance and value, Enclosed separates itself from quantity-driven box and bow subscription gift sites, remaining true to the spirit of giving a gift of value.
"Everyone fears giving the wrong gift. We address that fear head-on, by delivering ultra-high-quality lingerie in an utterly unforgettable presentation. We deliver a gift that makes her feel like the beautiful, loved woman she is," said Enclosed Founder Antonia Townsend. "Men appreciate the guidance we provide. It comes without the pressure of selecting every detail of a product they themselves have never worn. They love the safety of knowing they are giving a quality product, balanced by the fun element of surprise that comes with giving decadent panties."
HOW IT WORKS
The online shopping site, found at http://www.theenclosed.com, provides ample illustration and guidance to take even the most hesitant gent through the lingerie purchase. Picture-based guidance makes it simple to understand which type of cut, style, hue and sizing will delight her most.
These quick inputs inform which pair of knickers Enclosed mails, while preferences can be modified if something different is desired next time. If she isn't fully delighted, Enclosed provides a full refund option.
A one-time gift is $50 (plus shipping); 3 months is $140; 6 months is $270; and 12 months is $500. For the holiday season, all multi-month packages will receive free shipping.
ABOUT ENCLOSED
Based in San Francisco and currently serving the USA, Enclosed reimagines how to make women feel special through luxe lingerie. In November 2013 the company launched the unique subscription gift via its online shopping site http://wwwtheenclosed.com. Made of the highest quality, the elegant panties are beautifully packaged in real flower petals and a keepsake box. Pricing and duration options range from $50 for one month to $500 for a one-year subscription.
Media Contact:
Marino PR
Susie Marino
(415) 613-9138
susie(at)marino(dot)com