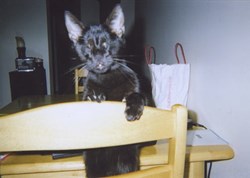 "I always say that while Love Saves the Day is a book about a rescue cat, it isn't a book about cat rescue," Cooper notes. "But love did save the day sixteen years ago, when Homer and I decided to rescue each other."
New York, NY (PRWEB) August 28, 2013
Homer "the Blind Wonder Cat" Cooper, subject of the internationally bestselling memoir died in his New York home last Wednesday of age-related illness. His human companion, author Gwen Cooper, was with him at the time. Homer was sixteen years old.
Homer's Odyssey was published in 2009 and became an instant New York Times bestseller in both hardcover and paperback. At the time of his death, Homer's story had sold over 250,000 copies in the U.S., and had been published in fifteen languages and over two dozen countries and territories around the world. A popular figure on social networking platforms, he had amassed some 35,000 Facebook fans and Twitter followers, and via those platforms had raised nearly $25,000 in relief aid for animals affected by the Egyptian revolution, the Japanese tsunami, and natural disasters in the U.S. The subject of stories on NPR, Reuters, and Tribune Media Services, in publications including USA Today, Ladies Home Journal, Time.com, and the Daily Mail, and on television programs on Animal Planet and NBC, Homer was a familiar figure to animal lovers around the world. His diverse group of acknowledged fans ranged from animal expert Temple Grandin to renowned mentalist The Amazing Kreskin to bestselling authors including Rita Mae Brown, Chris Bohjalian, Barbara Delinsky, Susan Richards, and John R. Bruning.
"Homer and Homer's Odyssey have made a tremendous difference in the lives of blind cats," says Alana Miller, Executive Director of Blind Cat Rescue and Sanctuary in St. Paul, North Carolina. "Because of Homer and his story, many shelters no longer euthanize blind cats immediately upon intake, and we're seeing far higher adoption rates of blind cats. He's helped save countless lives."
Yet Homer, named for the blind Greek poet, had far from an auspicious start in life. Found in 1997 at two weeks of age as a blind, abandoned kitten wandering the streets of Miami, and saved from a congenital eye infection by Dr. Patricia Khuly, he proved a difficult placement once he was deemed healthy enough for adoption. Ads, flyers, phone calls, and soliciting contacts from veterinary school turned up no takers. Khuly finally called Cooper, then in her early twenties and temporarily staying with her two cats in a friend's spare bedroom, having recently broken up with her fiancé. She was skeptical as to whether she was in the position to adopt a third, and one who was "special needs," but agreed to come to the office and meet him. As she would later write, it was love at first sight.
From the kitten nobody wanted, Homer grew into a cat beloved by millions. Cooper has received more than fifteen thousand emails, cards, letters, and cat gifts from readers on every continent of the globe (except Antarctica)—hundreds of whom have told her they were inspired, after reading Homer's story, to adopt a special-needs animal who would otherwise have been overlooked, as Homer nearly was.
"Truly," Cooper says, "he was the world's cat."
An Unlikely Hero
Homer was small even by feline standards, never weighing more than five pounds. Cooper was warned that a blind cat would most likely be timid and have trouble finding his way around or getting to know new places. She ended up moving with Homer six times over the course of his life and says, "You would never have known he was blind to see him finding his way around an unfamiliar room. And he was never shy. I used to call him our official 'greeter,' because he always made a point of being the first one to introduce himself to visitors in our home."
Homer proved just how brave a blind cat could be one night in July, 2000, when Cooper awakened at 4:00am to the sound of Homer growling on the bed next to her. Turning on the bedside lamp, Cooper discovered there was an intruder standing at the foot of her bed. The growling turned to action when tiny Homer flung himself at the man's face, snarling and baring his claws, and chased the man out of the apartment. By the time the police arrived, Cooper had retrieved Homer, who was calmly grooming himself.
"I almost felt sorry for the guy," says Cooper. "I can only imagine how freaked out he must have been to have this eyeless cat jump at his face, clearly trying to kill him. I always say that, once upon a time, I saved Homer's life. But that night, he saved mine."
A Literary Lion
Cooper recalls that Homer's Odyssey was rejected by at least a dozen publishers before it was finally acquired by Caitlin Alexander, then a senior editor at Bantam Dell. By its August 2009 publication date, foreign rights to Homer's Odyssey had already been sold in a dozen countries, and Bob Wietrak, then Barnes & Noble's VP of Merchandising, had told USA Today that, "This book will be huge." Since its initial publication, Homer's Odyssey has gone into eleven reprintings in the U.S., and there are currently 300,000 copies in print in the U.S. alone.
"I always hoped there would be an audience of cat lovers who would enjoy Homer's story," says Cooper. "What I never expected was how large and diverse that audience would be. In any given week I hear from people in places like Japan, India, the Netherlands, Italy, Brazil, Russia, and South Africa, as well as the US. I've heard from retired Marines, from soldiers serving in Iraq and Afghanistan, men and women of the clergy who've used Homer's story in sermons and homilies, homemakers, cancer survivors, shelter volunteers, ten-year-old children writing about Homer for school reports. I've gotten letters from people who've read Homer's Odyssey to their elderly parents in nursing homes and from people who are blind themselves and appreciate a story that lets others know that just because someone is blind, that doesn't mean they're not 'normal.'"
With the publication of her most recent novel—a fictional story called Love Saves the Day, narrated from the perspective of a rescue tabby named Prudence—Cooper sidestepped the usual author tour of bookstores and instead made a national speaking tour of no-kill animal shelters. As the October 22nd paperback release of Love Saves the Day approaches, Cooper has announced that she will donate to Blind Cat Rescue 100% of her royalties from all paperback copies preordered or sold between now and October 27th. "I always say that while Love Saves the Day is a book about a rescue cat, it isn't a book about cat rescue," Cooper notes. "But love did save the day sixteen years ago, when Homer and I decided to rescue each other."
Cooper also plans to establish the Homer's Heroes Fund, which each year will donate a portion of the royalties from all her books to a shelter or rescue group doing outstanding work on behalf of special-needs animals.
"The shelter community has always been incredibly supportive of Homer and his book," says Cooper. "I think that, in Homer, they saw so many other animals who would make someone a wonderful companion, but who get overlooked because they aren't 'perfect.' Homer was an ambassador for those animals. I want to keep that legacy alive."