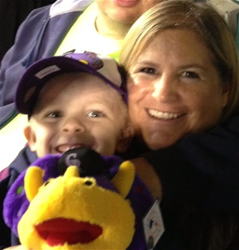 I LOVE my PainShield. Before I received my miracle machine, I spent the majority of my day lying down.
Chicago, IL (PRWEB) October 15, 2013
A clinical follow-up study to be presented at the International Pelvic Pain Society Annual Meeting in Orlando (Oct. 17-19, 2013) found significant reduction in pain and related symptoms in women who had previously suffered from long-standing, difficult-to-treat chronic pelvic pain, interstitial cystitis, adhesions and endometriosis. This study followed 16 women who were treated with the PainShield® MD Therapeutic Ultrasound device for up to 541 days, confirming and extending the findings of a previous report which followed these women, as well as three men for 207 days.
This latest study found that the PainShield® MD Therapeutic Ultrasound device produced clinically significant reductions in a variety of pain scores, including chronic pelvic and abdominal pain, bladder pain when urinating (dysuria), and muscle and joint pain. The device also significantly reduced the number of painful urination episodes, particularly at night-time, pain related to intercourse (dyspareunia), sacroiliac joint pain, and painful bowel movements. The study findings also include anecdotal reports of clinically significant reductions in pain medication usage, including opioids, and the resulting cost savings, as well as improvements in sleep due to less pain.
Fifteen out of sixteen patients rated their response to the treatment with PainShield MD as "Good" (9/16), "Moderate" (2/16) or "Mild" (4/16), with only one patient reporting a negative response with rapid onset of pain (within one day), which subsided rapidly with discontinuation of therapy. This patient reported similar reaction to conventional, office-based ultrasound previously.
Since the introduction of the PainShield MD, many users have reported significant improvements in their quality of life due to reduced pain, better sleep, weight loss from improved activity levels, reduced medication expenses, and fewer detrimental drug side-effects, such as constipation, due to lower medication consumption. One such patient, Dawn, 49, from Aurora, CO, a mother and grandmother of four, reports: "I LOVE my PainShield. Before I received my miracle machine, I spent the majority of my day lying down. I have had my PainShield MD since December 2012 and usually place it on my lower abdomen. I move it around based upon where the pain is located. I really like the flexibility of being able to place it where I need it most." Dawn has resumed activities like walks with her husband, cooking and spending time outdoors with her grandchildren – all previously impossible due to the debilitating pain she has suffered for over ten years from adhesions that followed a burst appendix and multiple GYN surgeries.
The PainShield MD clinical study resulted from a grassroots effort under the leadership of a patient advocacy organization, the International Adhesions Society (IAS), which provides information, support and advocacy to patients and their families suffering from adhesion related disorder (ARD). Authoring the study together with Dr. Wiseman was Ms. Teena Petree, PT of Summit Physical Therapy, Dallas, TX, whose specialties include pelvic floor dysfunction and pelvic pain relief.
The International Adhesions Society was founded by David Wiseman, PhD who remarked, "after conducting research on adhesions and pelvic pain and working with patients suffering from these conditions for over 25 years, I feel that this treatment modality can revolutionize the management of pain in the chronic pelvic pain population without the risks of surgery or drugs." Added Wiseman, "The results in the original PainShield MD study were so impressive that I felt compelled to start a company, KevMed, to make this technology widely available to patients in the US. Together with nearly a year of impressive results from actual market experience, these latest study results confirm our earlier conclusion that PainShield MD is a 'game changer' in the treatment of chronic pelvic and abdominal pain. We are now planning a larger study to obtain the necessary data to secure insurance reimbursement, a vital next step in making the technology available to millions of pain patients."
About KevMed
KevMed LLC is a medical company dedicated to the relief of chronic pelvic pain and related disorders. KevMed markets PainShield® MD, a wearable therapeutic ultrasound device as a non-invasive, low-risk treatment modality for chronic pelvic pain and pain associated with related conditions. PainShield MD is available by prescription to patients in the United States and was developed by NanoVibronix of Melville, New York, based on its proprietary technology which miniaturizes the ultrasound delivery system to a small disc mounted within an adhesive patch applied to the skin. NanoVibronix provided the PainShield MD units for the study free of charge.
For more information, contact:
David Wiseman, PhD
International Adhesions Society
18208 Preston Road, Suite D9
PMB 405, Dallas TX 75248
http://www.adhesions.org
KevMed, LLC.
15305 Dallas Parkway, Suite 300
Addison, TX 75001
http://www.kevmed.com