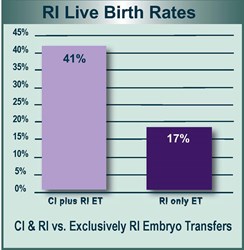 Rescue ICSI can help certain infertility patients avoid the profound disappointment of failed conventional egg fertilization.
Boston, MA (PRWEB) October 16, 2013
Laboratory mediated fertilization of human eggs and sperm is critical to successful in vitro fertilization (IVF), which enables women and their male partners challenged by various aspects of infertility to conceive and ultimately give birth to healthy babies.
Most commonly, the laboratory process involves a period of culturing eggs and sperm together to allow sperm penetration and fertilization of the egg. Following successful fertilization, the human embryo begins to develop and at the appropriate time is transferred by a fertility doctor (Reproductive Endocrinologist) into the intended mother's uterus.
In rare cases, even when both sperm and eggs appear to be functionally mature and normal, fertilization failure can occur after insemination. The Reproductive Science Center (RSC) of New England helps patients avoid the profound disappointment of fertilization failure by attempting to "rescue" the IVF cycle through a procedure called Intra-Cytoplasmic Sperm Injection (ICSI) if it is apparent that fertilization has not occurred naturally. ICSI is a micromanipulation laboratory procedure in which, under the guidance of an advanced high magnification microscope, the embryologist injects a single sperm cell into an egg.
With patients' consent prior to starting an IVF cycle, RSC New England embryologists have implemented ICSI as a "rescue" technique when no evidence of fertilization is found after insemination. (In addition to prior consent, patients must meet a number of other criteria to be considered eligible for Rescue ICSI.)
ASRM Research Presentation
By evaluating seven continuous years of data, embryologist Danielle Sheehan, BS, TS (ABB) and her colleagues at RSC New England have shown that "rescue ICSI" is effective in allowing some IVF treatment cycles to continue to completion and result in live births. It is hoped that the results of the RSC New England study may encourage a universal application of "rescue ICSI".
Many fertility centers have operated under the assumption that fertilization failure may reflect maturation deficiencies that cannot be overcome. It has also often been assumed that the attainment of embryos capable of implantation is precluded because some aging of the egg has occurred during the conventional insemination period. Sheehan and her colleagues' work, suggests that rescue ICSI is a valuable approach to fulfilling patients' IVF treatments and that it merits a place among assisted reproductive technologies.
One of the largest and most experienced fertility treatment centers in the United States, the Reproductive Science Center of New England is marking its 25th year of providing comprehensive diagnosis, evaluation, consultation and treatment for infertility. RSC New England has 11 locations in Massachusetts, New Hampshire and Rhode Island and is a partner member of IntegraMed Fertility, the most expansive network of infertility treatment centers and fertility specialist physicians in the nation.