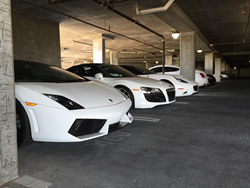 Las Vegas, Nevada (PRWEB) September 11, 2015
Diplomat Exotic Rentals purchases a 2013 Lamborghini LP 540 2 in time for Floyd Mayweather Jr.'s September 12 fight against underdog Andre Berto.
The undisputed current pound-for-pound best boxer in the world and highest paid athlete in the world is well known as a car-lover. He is also rumored to retire soon, making many speculate that this could well be his last fight. In line with this crucial fight, the company has invested in luxury cars worth roughly $470,000: the i8, the Lamborghini, as well as the Ferrari Califorina. These three are the kind of cars one can expect to find in Mayweather's collection of top-of-the-line sports cars, as covered by Stephen A. Smith's interview with Floyd on ESPN during the lead-up in his super fight against Filipino slugger Manny Pacquiao.
In fact, many of the quality rental cars available at Diplomat Exotic Rentals are also available in Mayweather's fleet of cars. Customers can ride a Rolls Royce Ghost worth $350,000 for only $1,599 at Diplomat. The luxury car company's lineup also features models from Ferrari, Lamborghini, McLaren, Porsche, Mercedes-Benz, Chevrolet, Maserati, Audi, Aston Martin, Bentley, and Land Rover.
A closer inspection at Mayweather's car collection reveals a long list of supercars and sports car legends. The pound-for-pound boxer maintains his prized collection by reselling slightly used cars and acquiring new cars on a regular basis. At the time of this writing, the boxer has in rotation in his Las Vegas home alone 10 different white cars that are expected to be sold soon in favor of newer models. 'Money Mayweather' – who used to be known as 'Pretty Boy Floyd' has a fleet of cars that includes those from makers like Ford, Ferrari, Chevrolet, Audi R8, Lamborghini Aventador, Porsche, Mclaren, Bentley, and Rolls Royce.
With the Diplomat Exotic Rentals, customers can inexpensively avail of 24 hours of temporary ownership of all sorts of Mayweather-level luxury and sports cars that attract automobile aficionados and car connoisseurs. The company offers competitive rates for the hybrid super car BMW i8, Lamborghini Gallardo, McLaren MP4-12C, and Ferrari 458 Italia rental cars.
People who wish to know what it's like to live life like the richest and best pound-for-pound boxer in the world should consider renting a car from Diplomat Luxury Rentals. Not only did the company recently purchase the state-of-the-art hybrid super car BMW i8, it has also bought the 2013 Lamborghini LP 540 2 to add of its already impressive lineup in time with what could be Mayweather's last fight. Right off the heels of his successful fight against Manny Pacquiao, Money will be facing Andre Berto on September 12 in Las Vegas.